Levin van Zyl Incorporated
Dedicated specialists
Complete assistance
Achieving optimal results
In-page navigation
---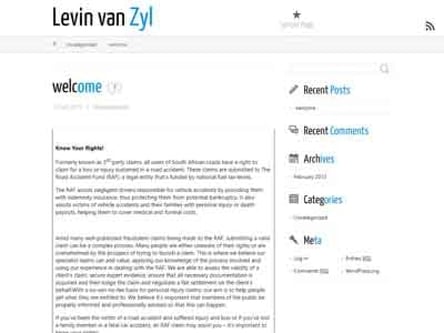 Author Levin van Zyl Incorporated. Screenshot of Levin van Zyl Incorporated website.


[Accessed April 5, 2023]
Levin van Zyl Incorporated - Outstanding legal services
At Levin van Zyl Incorporated, we have always been focused on meeting and exceeding the expectations of our clients through the provision of outstanding legal services.
Our team includes 9 attorneys, 5 candidate attorneys and 28 other professionals who provide administrative and specialist support for the cases which we prepare. To date, out legal practice has served successfully over 7,000 members of the public.
The best legal solutions
We have an ever-growing client base because of our dedication to finding the best solution for each and every legal matter. We are able to provide highly effective professional services based on a combination between innovation and the best traditions in the field of law.
Our attorneys are leaders in their areas of specialisation being third party claims. We work in an efficient and time-efficient manner to minimise the financial and other costs associated with the resolution of legal matters. We are highly responsive and provide complete personal attention to every client.
Dedicated specialist lawyers
We have the expertise and experience necessary for achieving optimal settlements for our clients who initiate third party accident claims popularly known as road accident claims.
At Levin Van Zyl Incorporated, we provide complete legal assistance to accident victims and their families. Our law firm has a team of dedicated specialist lawyers and experts in other fields who work together to deliver services of the highest quality.
Road accident fund
When you choose to use our services, you will receive comprehensive advice on the validity of your road accident fund claim.
If there are legal grounds for claiming compensation from the Road Accident Fund, we will provide full assistance with the lodging of the claim, with settlement negotiation and with trial litigation in case a settlement is not reached.
We work on personal injury cases following a "no win, no fee" policy. This means that we will charge no fees if your personal injury claim is not successful.
Levin van Zyl Incorporated – Third-party Claim
Claim Type

Third-party Claims
Benefits of Levin van Zyl Incorporated
MEDICAL Negligence Claims
ROAD And Vehicle Accident Claims
3RD Party Accident Claims
ROAD Accident Fund Claims
FAMILY Law
LABOUR Law
UNLAWFUL Arrests
TENANT Evictions
COMMERCIAL Law
---
Levin van Zyl Inc. - We will fight for your rights
Many motor vehicle accidents happen every day if you have been in an accident due to the negligent driving of another person you can claim for compensation to cover medical expenses or loss of income.
If the person or family member you are dependant on dies due to an accident that was the fault of another party you can claim compensation for maintenance.
Contact us immediately after the incident
Contact us as soon as possible to validate your third-party claim. You have nothing to lose, as we work on a no win no fee basis. As soon as we have validated your case we will lodge a claim. We have a board of medical and legal experts at our disposal.
Our medical expert can give an expert testimonial that will be beneficial to your case. We aim to make the processes as streamlined as possible.
You can make a motor vehicle accident claim if you or your loved one was injured. Drivers, passengers and even pedestrians can make a third party claim. Claims can be used to cover medical expenses or loss of income.
Levin van Zyl Incorporated Contact
Contact Number
E-Mail
Website
Physical Address
The Northcliff Law Chambers, 160 Bagley Terrace

Northcliff

Johannesburg

2195

South Africa
Opening Hours
Monday

08:00 – 17:00

Tuesday

08:00 – 17:00

Wednesday

08:00 – 17:00

Thursday

08:00 – 17:00

Friday

08:00 – 17:00

Saturday

– CLOSED

Sunday

– CLOSED