Reputable legal firm
Up-to-date advice
Experts in 3rd party claims
In-page navigation
---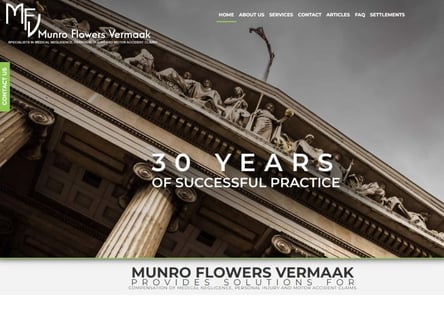 Author Munro Flowers & Vermaak. Screenshot of Munro Flowers & Vermaak website.


[Accessed March 31, 2023]
Munro Flowers & Vermaak - Specialists in personal injury law
Munro Flowers & Vermaak is a legal firm with specialisation in personal injury law.
We have more than 20 years of experience and we are renowned experts in our field. We handle personal injury claims, car accident claims and medical negligence claims. We are experts in both negotiation and litigation.
We are a reputable legal firm
We are always up to date with the latest changes in legislation and with the major trends in our industry. We combine our experience with our creativity to achieve the best third party claim outcome for each client.
Our achievement record speaks for the quality of our service. We have earned individual compensation awards for more than 10 million Rands. We are able to offer legal services of the highest quality thanks to our efficiency, dedication, expertise and compassion.
We provide personal attention and full understanding to our clients. We believe that the practice of law should always have a human face and this is one of the major principles of our firm.
We are experts in 3rd party accident claims
All road users in South Africa are insured by the Road Accident Fund. If you have sustained a personal injury in a road accident and you believe that it was caused by the negligent act of another party, you can initiate a Road Accident Fund claim for compensation against the fund.
At Munro Flowers & Vermaak, we are experts in 3rd party accident claims and we are always ready to provide professional legal assistance to the victims of accidents and their families.
We work in an efficient and time-efficient manner to achieve adequate third party compensation for our clients.
We will investigate your case
The compensation award can cover medical expenses, lost earnings and personal damages. We will begin by investigating your case.
If you have a valid personal injury claim, we will institute it and enter into negotiations. We will use our professional knowledge and negotiation skills to achieve a fair settlement. If necessary, we will initiate litigation to ensure that you get rightfully compensated.
Munro Flowers & Vermaak – Third-party Claim
Claim Type

Third-party Claims
Benefits of Munro Flowers & Vermaak
3RD Party Claims
ENVIRONMENTAL Law
MEDICAL Negligence
DOG Bite Claims
MVA Claims
PERSONAL Injury
---
Munro Flowers & Vermaak - Contact us today
Munro Flowers & Vermaak in South Africa are notable for our involvement in helping customers with their third party and RAF cases. We manage these motor vehicle accident claims all the time, where clients have been severely injured in these kinds of accidents, because of a negligent driver on the road.
In the event that you know you have a third-party claims, contact our firm as quickly as time permits.
Customers who can claim for a third party case include those who:
Have been harmed in a motor vehicle accident either as a pedestrian alongside the road, or a driver in another vehicle or even as a passenger in either of the vehicles
The provider of the family has been killed because of a deadly car crash, and the rest of the relatives are left with no financial aid or support
Where a minor has been harmed and needs restorative treatment or surgery because of the wounds and injuries inflicted
In every one of these circumstances, the case would need to demonstrate that the harmed parties were not to blame for the event. The harmed individual/individuals could be people on foot, drivers or even passengers in a vehicle who were harmed because of another driver.
By providing us with as much proof and documentation as you can after the event, we can build a case worth fighting for on your behalf. We can institute a claim for a number of areas, including loss of income if you were unable to work for a long period of time due to your injuries.
Loss of financial support if your spouse/breadwinner of the family was killed in the accident. Pain and suffering as well as future and pending surgical and medical treatments or surgery needed for your existing injuries. The emotional trauma can also require special attention, especially in young children. There are many factors to consider in this kind of case. We can help you with all you need and more.
Munro Flowers & Vermaak Contact
Contact Number
E-Mail
Website
Physical Address
3rd Floor, The Mall Offices, 11 Cradock Ave

Rosebank

Gauteng

1296

South Africa
---
Postal Address
P O Box 2426, Saxonwold, 2132, South Africa