Michael de Broglio Attorneys
Extensive legal knowledge
Complete dedication
Large legal team
In-page navigation
---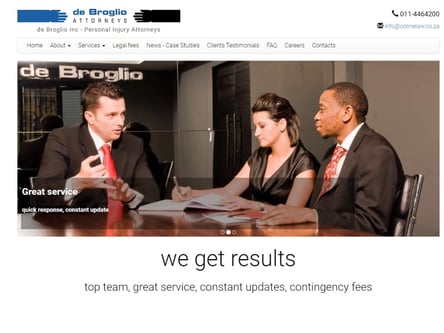 Author Michael de Broglio Attorneys. Screenshot of Michael de Broglio Attorneys website.


[Accessed March 31, 2023]
Michael De Broglio Attorneys - Highly effective legal solutions
Our law firm specialises in the handling of road accident claims against the Road Accident Fund. We, at Michael de Broglio Attorneys, have vast expertise and experience in handling cases resulting in compensation amounts of millions of rand.
We work with accident victims from all walks of life and take up cases of different sizes and complexity.
We owe our high achievements to our lawyers, medical and other specialists and highly efficient operations.
We have 12 lawyers on our team
We have extensive legal knowledge and excellent negotiation and litigation skills. Our strategies are based on innovation, creativity and time-efficiency. We are always focused on achieving the largest possible third party compensation.
We are dedicated to providing legal services of the highest quality which have a notable personal touch. Our clients receive updates on the development of their cases every two weeks. They also have instant access to their electronic medico-legal reports.
We specialise in personal injury law
It is possible for South Africans to make 3rd party accident claims against the Road Accident Fund by themselves.
This strategy, however, has an extremely low success rate.
At Michael de Broglio Attorneys, we specialise in the provision of legal assistance to the victims of road accidents and their families.
Our job is to investigate and institute claims
If the desired outcome is not achieved through negotiation, we engage in litigation. Our core goal is to defend the interest of our clients and we do it professionally and with complete dedication.
We have a history of success. Our clients have received compensation awards of millions of rand.
You are welcome to contact us so that we can provide a full professional assessment of the validity of your Road Accident Fund claim.
If it is valid, we will take the required steps to assist you in obtaining compensation for your suffering.
Michael de Broglio Attorneys – Third-party Claim
Claim Type

Third-party Claims
Benefits of Michael de Broglio Attorneys
3RD Party Accident Claims
MOTOR Accidents
ROAD Accident Fund
DOG Bite Claims
MEDICAL Negligence
DIVORCE
PERSONAL Injury Claims
---
Michael De Broglio Attorneys - passionate about justice
Michael De Broglio Attorneys have a vast amount of years backing up our third-party cases in the country and helping people make a claim for the injuries they have sustained.
We know how tiring and stressful the process of a legal case can be for our clients. We are here to put your mind at ease, providing a full legal service to get you the payment you deserve after being involved in such an event.
The roads in our country today are filled with irresponsible drivers, and the RAF is quick to pull out all the stops when it comes to not paying out a third party claim.
We will fight for your rights
We will not let this get in the way of our fight for your rights as an innocent victim. By contacting us as soon as possible after your event, we can put together a case that proves that you were not at fault.
The more proof you provide, through medical reports, doctor notes, photographs and other details, the better chances we have of putting together a case worth fighting for on your behalf.
Our clients have rights, and we will go the extra mile to put you first. You have the right to claim for pain and suffering tolerated from your injuries sustained by a sudden unplanned bad event on the road.
Vehicle damages and hospital bills. Present and future hospital and medical treatments. Loss of earnings should you not be able to carry on with life the way you once did before the unplanned bad event.
Contact us
By contacting us and setting up a consultation, we will go over the entire incident, and recreate the incident, in theory, to understand where we are going and if there is a personal injury claim to work with.
We are extremely honest and transparent throughout our services and believe you need to be kept up to speed with the progress of your case at all times. Our clients can have the peace of mind that they have a South African law firm that really does care about their future, and the wellbeing of their situation, throughout their journey with us.
Michael de Broglio Attorneys Contact
Contact Number
E-Mail
Website
Physical Address
127 Jan Smuts Avenue

Parkwood

Johannesburg

2196

South Africa
---
Postal Address
P.O. Box 2013, Parklands, 2121, South Africa
Opening Hours
Monday

08:30 – 17:00

Tuesday

08:30 – 17:00

Wednesday

08:30 – 17:00

Thursday

08:30 – 17:00

Friday

08:30 – 17:00

Saturday

– CLOSED

Sunday

– CLOSED