Honesty and integrity
Effective legal representation
Adequate compensation
In-page navigation
---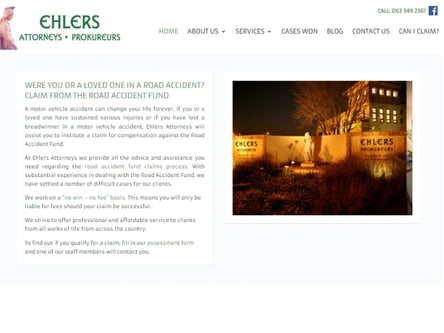 Author Ehlers Attorneys. Screenshot of Ehlers Attorneys website.


[Accessed March 31, 2023]
Ehlers Attorneys - Serving clients nationwide
The core values of our law firm are professionalism, honesty and integrity. At Ehlers Attorneys, we provide legal assistance to South Africans from all walks of life. We have clients nationwide.
Our practice was established in 2001 and initially focused primarily on criminal law. In 2003, we started our operations in the field of Road Accident Fund matters and 3rd party accident claims.
Effective legal representation
We provide effective legal representation in different courts including the High Court and Magistrate Court. We keep up to date with all of the latest legislative amendments and developments in the field of law.
We are committed to providing each of our clients with complete personal attention. We believe that this is one of the main factors for the provision of high-quality legal services along with knowledge, skills and expertise.
Over the years we have built strong bonds with our clients. We are proud of our achievements and of the fact that we have many referrals as a result of successful Road Accident Fund claims.
We will keep you informed
For more than 10 years, we, at Ehlers Attorneys, have been assisting the victims of road accidents and their families with the institution and litigation of claims against the Road Accident Fund of South Africa.
Our job is to help our clients to get awarded adequate compensation for their suffering, medical expenses and lost income through third party accident claims.
Full assistance
We provide our legal services on "no win - no fee" basis. You will pay fees only if your motor vehicle accident claim is successful.
We will provide full assistance with all costs associated with litigation.
Our work is based on honesty and integrity and we will discuss all fee arrangements and structures with you to give you complete confidence and peace of mind.
We will handle your personal injury claim in a holistic manner and work to ensure a settlement which matches your individual needs. A member of our team will take up your case and will keep in touch with you.
Ehlers Attorneys – Third-party Claim
Claim Type

Third-party Claims
Benefits of Ehlers Attorneys
3RD Party Claims
MEDICAL Negligence
PERSONAL Injury
---
Ehlers Attorneys - Extensive experience in claiming
Ehlers Attorneys offers a convenient and simple way for clients to start with their third-party claim process. We have extensive experience in fighting cases like these.
We have decades of experience in providing the legal services to all clients in South Africa. A third party legal case is built on the facts of a motor vehicle accident, which has caused injury or bodily harm, as a result of another negligent driver. If you fit this criterion, we ask that you contact us as soon as possible.
The longer you leave the case, the longer the fund take to pay out any sort of medical or loss of support compensation. Simply contact our firm via email or telephone, and we will set up an appointment or consult with you to discuss your case further.
On consult of your first appointment with us, we encourage our clients to provide as much evidence as they can from the actual accident. Medical and doctor reports, photographs, and any other documents and proof you can provide will all work in your favour to build a winning case.
A third party claim can be based on a number of injuries including but not limited to:
Any injury sustained through a motor vehicle accident, be it minor or major.
Fatal inquires resulting in the breadwinner of the family succumbed to the motor vehicle accident
Injuries endured to minors who were passengers in the accident and need medical treatment or hospitalisation.
The severity of the injuries sustained in such an accident can be traumatic not only on a recovery level but emotionally as well. Clients can make a claim for pain and suffering, loss of income and a number of other areas experienced through this traumatic ordeal.
The window period to lodge your claim to the Road Accident Fund is a maximum of three years, however, the sooner you get your claim in the better results and turnaround times for the client. Where minors are involved, parents can lodge the claim on their behalf. Where fatalities are involved, the next of kin, or spouse is liable to submit the claim.
We are here to assist you're throughout your case, speak to us today, and let us fight on your behalf.
Ehlers Attorneys Contact
Contact Number
E-Mail
Website
Physical Address
6 Migmatite Dr. Zwartkop

Centurion

Pretoria

0157

South Africa
---
Postal Address
PO Box 383, Irene, 0062, South Africa
Opening Hours
Monday

08:00 – 16:30

Tuesday

08:00 – 16:30

Wednesday

08:00 – 16:30

Thursday

08:00 – 16:30

Friday

08:00 – 16:30

Saturday

– CLOSED

Sunday

– CLOSED