Excellent reputation
Deliver timely results
Uncompromising commitment
In-page navigation
---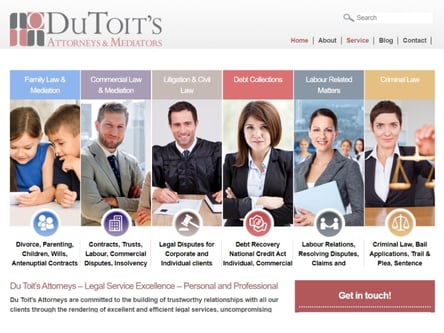 Author Du Toit Attorneys. Screenshot of Du Toit Attorneys website.


[Accessed March 31, 2023]
DuToit's Attorneys - A professional legal service
Our legal practice, DuToit's Attorneys, has built an excellent reputation for providing professional and friendly service and for delivering timely results. We have been operating for over 5 years now and we are proud of our high success rate.
We owe our achievements to our expertise and dedication and to the effective negotiation and litigation strategies which we use. We have various areas of expertise including family law, insolvency law, personal injury claims and commercial law.
Committed to serving you
We have all the resources necessary for handling legal matters of varying complexity with competence and efficiency. We are committed to building relationships which are based on trust with our clients.
We have an uncompromised personal commitment to serving their interests. We work closely with our clients to devise the most effective strategy for each and every case. Our legal knowledge, professional skills and dedication make us a natural choice for individuals and businesses seeking legal advice and representation in third party claims.
Friendly and compassionate service
In third party accident claims, both the personal injury of the victim and the negligence of the other party have to be proven in order for compensation to be awarded.
These claims are made to The Road Accident Fund which ensures drivers, passengers and pedestrians.
It is possible to make a claim directly to the Fund, but you will have much higher chances of success if you use the professional legal services of DuToit's Attorneys.
We will investigate your case
We will begin our dealings with investigating your case and determining whether you have legal grounds for making a claim. If you have a valid claim, we will go on and institute it for you.
We will take all necessary steps to ensure that you will be awarded adequate Road Accident Fund compensation for your suffering.
Our strategy is based on excellent preparation and innovative approach. We have a high success rate and this makes us confident that we can help you as well.
Du Toit Attorneys – Third-party Claim
Claim Type

Third-party Claims
Benefits of Du Toit Attorneys
PERSONAL Injury Claims
3RD Party Accident Claims
---
Du Toit Attorneys - We are the leaders in the legal field
Many motor vehicle accident happens on a daily basis, leaving the client with medical bills or the inability to continue working.
If you have been injured in a motor vehicle accident you can make a third party claim to help you cover the expenses. It is a long process and for this reason. it is very important to contact us as soon as possible after the incident.
Points to remember before your first consultation
Before you visit us for your first consultation it is very important to get as much evidence (photos, numberplates etc) and the relevant documentation ready. the documentation can include a police report, medical report and witness statements.
This will make it easier and faster for us to validate your claim. As soon as we have validated your motor vehicle accident claim we will build a strong case and lodge a claim on your behalf. Payouts for compensation can take years, during this time you can contact us at any time for an update. We aim to make this process as easy as possible for you. if your case ends up in court we will give you excellent representation.
You can make a third party claim if:
You have been injured in a motor vehicle accident.
The breadwinner of the family has been killed and you'd like to make a loss of support claim
A minor has been harmed and needs treatment or surgery
Du Toit Attorneys Contact
Contact Number
E-Mail
Website
Physical Address
252 Jean Ave, Die Hoewes

Centurion

Pretoria

0157

South Africa