Service-focused law
Pro-active solutions
Contingency fee
In-page navigation
---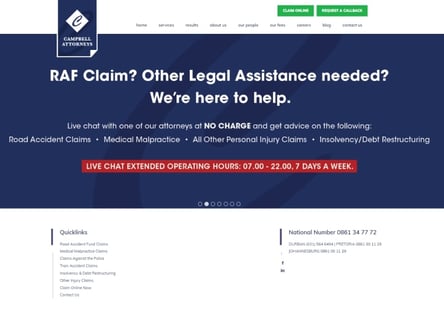 Author Campbell Attorneys. Screenshot of Campbell Attorneys website.


[Accessed March 31, 2023]
Cambell Attorneys - Effective legal solutions
Our dynamic and service-focused law firm provides clients with effective problem-solving advice and assistance, pro-active solutions and complete personal attention.
At Campbell Attorneys, we are proud of our high rate of success in finding the best personal injury claim solutions for our clients. We work with clients from all over South Africa. We are experts in negotiation and litigation.
Expert representation
We provide representation in all courts in the country. We have three main areas of specialisation - personal injury claims, medical malpractice claims and private security industry services. We have highly experienced lawyers with excellent legal knowledge and skills on our team.
We have other specialists who work along with our attorneys to build strong cases for our clients. We work with focus and determination to reach the best outcome.
We operate on a contingency fee basis also known as no win, no fee basis. We represent clients from various backgrounds as we believe that everyone should have equal access to justice.
Specialists in personal injury
South Africa is a country with a high annual rate of road accidents. Accident victims have the right to make third party accident claims also known as Road Accident Fund claims.
At Campbell Attorneys, our job is to institute such claims and to help our clients obtain compensation through negotiation and litigation.
We have narrow specialisation in this field of personal injury law.
An experienced team on your side
We have a team of experienced lawyers and professionals with medical knowledge who are capable of achieving the best outcome for every client.
The parties who can make a claim include the victim, the family of the victim if the person is the main breadwinner in the family and the parents of the victim if the victim is a minor.
The compensation amount typically covers medical bills, lost income and other damages including pain and suffering.
The Road Accident Fund is the body responsible for administering compensations.
Campbell Attorneys – Third-party Claim
Claim Type

Third-party Claims
Benefits of Campbell Attorneys
DOG Bite Claims
3RD Party Accident Claims
PERSONAL Injury Claims
ROAD Accident Fund Claims
---
Cambell Attorneys - Helping you claim from the RAF
Campbell Attorneys in South Africa are well known for their experience in assisting clients with their road accident and third party legal claims.
We deal with third-party claims on a regular basis, where clients have sustained injuries due to motor vehicle accidents. If you know you have a case to work on, contact our firm as soon as possible.
Clients who can claim include those who:
Have been injured in an accident on the road and who have endured bodily harm
The breadwinner of the family has been succumbed due to a fatal car accident, and the remaining family members need to make a loss of support claim
Where a minor has been injured and needs to undergo medical treatment or surgery due to the injuries sustained – and major medical costs are involved
In all these situations, the case would need to prove that the injured parties were innocent in the accident. The injured parties would be a victim of a negligent driver and suffered from the incident.
The case we build on your behalf would need to prove that the driver was negligent, and the incident could have been prevented.
The injured person/people could be pedestrians, motorists or passengers in a vehicle who were injured as a result of another driver/motor vehicle. Should you be responsible for your own injuries, you would not be liable to claim for third-party compensation.
The Road Accident Fund compensation can cover areas of your case including:
Current and future hospital and medical bills
Loss of income due to major injuries
Pain and suffering – emotional trauma
Employment of medical assistance to take care of you
Funeral arrangements in the case of a fatality
Maintenance support due to loss of a breadwinner
Clients should get their case underway as soon as possible. There is a timeframe of up to three years to get your case into motion, however, this will delay the process even further.
We do encourage you to contact us for a consult as soon as possible, to avoid the tedious periods of the third party claim processes.
Campbell Attorneys Contact
Contact Number
E-Mail
Website
Physical Address
58 St. Andrews Drive

Durban North

Durban

4051

South Africa
---
Postal Address
PO Box 30162, Sunnyside, Pretoria, 0132, South Africa
Opening Hours
Monday

08:00 – 16:30

Tuesday

08:00 – 16:30

Wednesday

08:00 – 16:30

Thursday

08:00 – 16:30

Friday

08:00 – 16:30

Saturday

– CLOSED

Sunday

– CLOSED