Malcolm Lyons & Brivik Attorneys
Expert personal injury law
Effective case strategy
Negotiate settlements
In-page navigation
---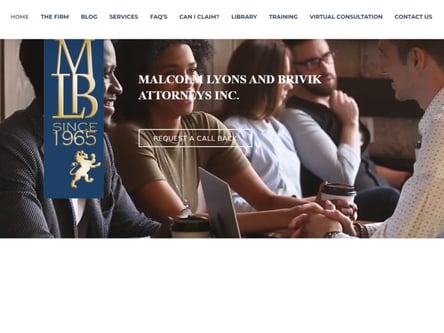 Author Malcolm Lyons & Brivik Attorneys. Screenshot of Malcolm Lyons & Brivik Attorneys website.


[Accessed March 31, 2023]
Malcolm Lyons & Brivik Inc. Attorneys - Experts in personal injury law
Malcolm Lyons & Brivik Inc. Attorneys was the first law firm in South Africa to specialise in personal injury law.
We have been leading experts in this field since 1965. Over the years, we have built a strong reputation for achieving high compensation awards for the accident victims who use our services.
We have extensive long-term experience with road accident claims, medical malpractice claims and unfair labour practices among others.
We build lasting relationships
We are proud of our achievements which include the precedent for the largest award for general damages for a road accident victim in the country. At present, our team includes 6 attorneys and 2 candidate attorneys.
We have a network of medical and other specialists who assist us in our investigation and case building operations when preparing a third-party claim. We are associated with major law firms in Europe and the USA and this enables us to handle overseas claims with great success. We place a major focus on building lasting partnerships with our clients.
Claims against the RAF
Road accident victims in South Africa need to take timely action and initiate third party accident compensation claims against the Road Accident Fund.
The competent attorneys of Malcolm Lyons & Brivik Inc. are readily available to provide full assistance with the lodging of such claims, with the negotiation of a settlement and with litigation if the need arises.
We have a high success rate in this field
We work with speed, precision and dedication to ensure that our clients receive fair compensation within the shortest possible period of time.
In order for a road accident victim to obtain personal injury compensation, the negligence of the driver and the nature of the personal injury sustained have to be proven.
We have the resources and expertise to do this.
We will devise an effective case strategy which will give us the best chances of achieving the highest compensation award for you. You can contact us in order to initiate the process.
Malcolm Lyons & Brivik Attorneys – Third-party Claim
Claim Type

Third-party Claims
Benefits of Malcolm Lyons & Brivik Attorneys
PRODUCT Liability Claims
3RD Party Accident Claims
DOG Bite Claims
ANIMAL Bites
PERSONAL Injury Claims
AVIATION Accidents
BIRTH Injury
BRAIN Injury
BURN Injuries
CONSTRUCTION Accidents
MEDICAL Negligence
SEXUAL Harassment
SURGICAL Errors
---
Malcolm Lyons & Brivik Inc. - We will put your mind at ease
Malcolm Lyons & Brivik Inc. Attorneys understand how the processes for third party claims, can numb the senses when you are a victim in a motor vehicle accident that wasn't your fault.
We know how tedious the process can be for our clients, as well as a little soul destroying at times. We are here to put your mind at ease, providing a full legal service to get you the compensation you deserve after being involved in such an incident.
You have the right to claim
The roads in our country today are filled with negligent drivers, and the road accident fund is quick to pull out all the stops when it comes to paying out a motor vehicle accident claim. We will not let this get in the way of our fight for your rights as an innocent driver or pedestrian.
By contacting us as soon as possible after your incident, we can put together a case with fresh evidence and prove that you were not at fault. The more proof you provide, through medical reports, doctor notes, photographs and other details, the better chances we have at putting together a case worth fighting for. Our clients have rights, and we go the extra mile to put them first.
You have the right to claim for pain and suffering endured form your injuries sustained by the motor accident. Vehicle damages and hospital bills. Present and future hospital and medical treatments. Loss of earnings should you not be able to carry on with life the way you once did prior to the accident.
There are a number of factors taken into consideration when it comes to claims against the RAF. The beginning point of your journey with us to prove that the accident was caused by another motorist, due to negligence, and could have been avoided. By using an accident reconstruction expert, we can put a lot of evidence together, to add a positive impact on your case.
Contact our law firm today, speak to one of our friendly staff members, and we will assign an attorney to your case.
Malcolm Lyons & Brivik Attorneys Contact
Contact Number
E-Mail
Website
Physical Address
Suite 501, 5th Floor, The Colosseum 3, St Georges Mall

Cape Town

8001

South Africa