Legal and medical experts
Superior knowledge
A 'no win, no pay' policy
In-page navigation
---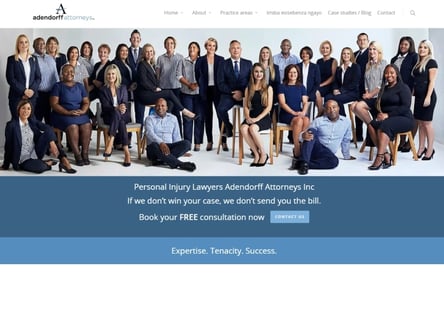 Author Adendorff Attorneys. Screenshot of Adendorff Attorneys website.


[Accessed March 31, 2023]
Adendorff Attorneys - The legal experts
At Adendorff Attorneys we have a diverse team of legal experts and medical specialists.
Our head office is situated in Cape Town, with a secondary practice based in Pretoria, and over the years we have served many clients across South Africa. We have built up a superior knowledge regarding claims
We are dedicated to our clients
Director James Adendorff and his Associates are affiliated with the American Association for Justice, the Cape Law Society as well as the Association of Personal Injury Lawyers based in the United Kingdom.
They are dedicated to helping their clients receive the biggest possible TBI head injury compensation for their accidents and injuries ion the shortest possible time.
A NO win, NO pay policy
At Adendorff Attorneys we have a wide-ranging skill set in personal injury claims, product liability compensation and professional malpractice litigation.
We are excellently suited to handle TBI head injury claims and other medical negligence cases. Adendorff offers a superior customer service helping you get peace of mind by handling all aspects of your claim from filing your paper to representing you in court.
Superior legal services
Their executive shuttle service will ensure that you get where you need to be, especially if you can't get to your appointments yourself. We use a 'No Win, No Pay' policy, which means that you only have to pay attorney's fees once your head injury claim is successful.
Don't let the worry of expensive legal representation keep you from pursuing the compensation that is rightfully yours.
Adendorff Attorneys – Traumatic Brain Injury Claim
Claim Type

Traumatic Brain Injury Claims
Benefits of Adendorff Attorneys
PERSONAL Injury Claims
TRAIN Accidents
MEDICAL Negligence
BIRTH Injuries
HEAD Injury Claims
SLIP And Fall Accidents
POLICE Unlawful Arrest / Detention & Assault
PRODUCT Liability / Defective Products
DOG Bites
BURN Injuries
SPINAL Cord Injuries
HEAD And Brain Injuries
---
Adendorff Attorneys - We will get you properly compensated
Our clients can have the peace of mind that no matter how difficult their case may be, we will take it on headstrong. We have a team of experienced and passionate consultants and attorneys, who are experts in all personal injury claim cases.
We have a no win no pay policy, which allows our clients to have that reassurance that they won't need to cough up the cash if their case doesn't work out the way they want it to. At Adendorff Attorneys, we make sure our clients receive the compensation benefits they deserve when involved in any injury as well as TBI Head Injuries.
Dedicated shuttle service
They also have an executive shuttle service available to their clients, we understand how difficult it can be to make appointments when you are injured and that is why we make the process easier for you.
To get started with your claim, clients can simply follow three easy steps
We offer an initial free consult, to hear your story, and discuss your potential case. This consultation is completely free to our clients.
The next step will involve us doing the investigations into your TBI claim, and get all the necessary documentation completed in order to make a case on your behalf. From there, the next step involves the actual legal proceedings, where settlement is made and our clients will receive the compensation agreement for their injury.
Compile these details before you make a claim:
The dates
Time and place where your accident occurred
Details of witnesses to corroborate your story.
If a vehicle or multiple vehicles were involved then you will need:
the registration numbers
driver and owner details (if they are different)
a consultation by a medical professional
details of your treatment must be included
get a second medical opinion
With all the paperwork in order, contact Adendorff and they will guide you through the rest of the process to make a claim, they will explain the procedures and take over all the busy work and lending their expertise to ensure you get the very best possible payout.
There are many different accidents and types of injuries, so you can be sure that a competent attorney will see you properly compensated, and hopefully, back to full health in no time!
Adendorff Attorneys Contact
Contact Number
E-Mail
Website
Physical Address
2nd Floor Tyger Valley Chambers Three, 27 Willie van Schoor Drive (Durban Road)

Bellville

Cape Town

7536

South Africa
---
Postal Address
PO Box 4034 Tyger Valley, Pretoria, 7536, South Africa