Expert legal representation
High success claim rate
Free consultation
In-page navigation
---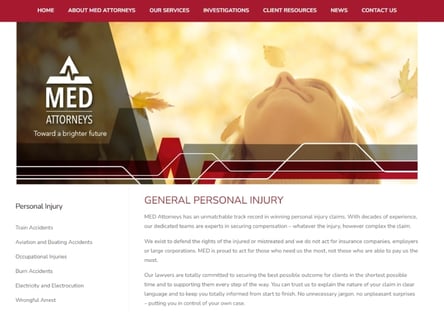 Author Mokoduo Attorneys. Screenshot of Mokoduo Attorneys website.


[Accessed March 31, 2023]
Mokoduo Attorneys - Let us help you with your claims
Over the years Mokoduo Attorneys has become a highly respected law firm in Johannesburg.
We have years of experience and expertise. The founding directors Kagiso Mokoduo and Ryan Erasmus have built a reputation for excellent client service and a highly successful claim rate relating to Litigation, TBI head injury claims, property and local Government.
You get a free consultation
Each legal case is unique and has its own processes, especially in the case of personal injury, whether caused by accident or negligence by a third party.
Mokoduo Attorneys draw from a wide range of experience to offer you the best service possible, with a free consultation, and no obligation to pay if your head or brain injury claim does not succeed.
We specialize in personal injury claims
Mokoduo Attorneys offer expert advice and legal representation, relating to personal injury and litigation.
We have won many high profile personal injury claims, and continue to represent South Africans with a dedicated professional service.
All services are free of charge
They offer a wide variety of services including claims to the Road Accident Fund, Sporting Injuries, claims against the South African Police Service, Product Liability, traumatic brain injury claims, Medical Negligence and much more.
We embrace technology to a great extent and offer online services such as calculators for Bond Repayments, Capital Gains Tax, Vat and Transfer Duties and Estate Planning. All services are free of charge until a successful claim is made, thereafter only will you pay a fee.
Mokoduo Attorneys – Traumatic Brain Injury Claim
Claim Type

Traumatic Brain Injury Claims
Benefits of Mokoduo Attorneys
MOTOR Vehicle Accident Claims
PUBLIC Liability Claims
HEAD Injury Claims
ROAD Accident Fund
BRAIN Injury Claims
RAIL
BOATING And Aviation Accidents
SPORTING Injuries Claims
PROFESSIONAL Negligence
OCCUPATIONAL Injuries
MEDICAL Negligence
CLAIMS For Birth Defects
---
Mokoduo Attorneys - Expert legal advice
Before contacting Mokoduo Attorney's, or any other legal representative for that matter, you should first seek a second medical opinion. Thereafter you can contact Mokoduo through their website, their telephone numbers or even at their offices.
Make sure that you have all of the medical documentation we will need to build a strong case on your behalf. You will get expert legal advice and we will explain all the processes to you, if your case is suitable, a highly qualified Mokoduo attorney will represent your claim.
We have your best interest at heart
From here on out everything will be handled for you. Your claim may be settled out of court, or in some situations, it will go into litigation.
In the latter case, you will likely be required to testify, but you will be guided through the whole process so you don't have to worry about that either! Through the entire process, you can rest assured that Mokoduo will look out for your best interests first and foremost.
Let us build a strong case for you
When putting your case together we take an in-depth analysis of how your injury was obtained, is your injury permanent or partial. Can this injury affect your long-term ability to work, what costs have been laid out for medical treatments, and have you had to undergo any psychiatric evaluation.
The consequences of such an injury may not always display immediately, and recurrence of tremors, seizures and brain damage can often show up at a later stage.
These are all factors we need to take into account before making a claim to ensure that we address your case in the best possible way. We know we can take your case to the next level, and put substantial proof and outcome to the court on your behalf with the right information.
This is key to the successful closing of our cases, most of the time. We also need to take into account third-party inclusions, as well as prior injuries caused by the same acts. We do a lot of investigation and analysis before presenting your TBI claim, to make sure we have all the facts for a winning case.
Mokoduo Attorneys Contact
Contact Number
E-Mail
Website
Physical Address
149 Oxford Rd, Cnr Wantage Rd

Rosebank

Gauteng

2196

South Africa
---
Postal Address
PO Box 1572, Bedfordview, 2008, South Africa