Michael de Broglio Attorneys
Expert advice and services
Personal injury claims
Successful settlements
In-page navigation
---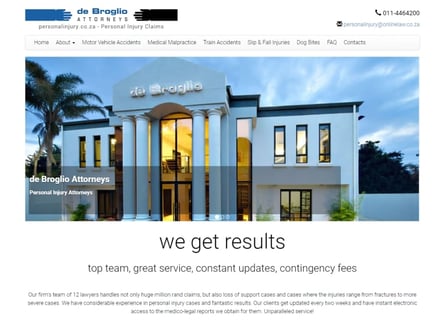 Author Michael de Broglio Attorneys. Screenshot of Michael de Broglio Attorneys website.


[Accessed March 31, 2023]
Michael de Broglio Attorneys - Use us for expert advice and services
Michael de Broglio is located in Johannesburg but we serve clients all over South Africa using an online platform.
We have one of South Africa's finest Attorneys, and they specialise in personal injury claims such as TBI head injury claims.
Our mission is getting you a successful settlement
Michael de Broglio was the editor for the Johannesburg Attorneys Association newsletter for over 4 years, writing a great deal of it himself.
With a long list of successful settlements, de Broglio Attorneys will give you confidence. With us, you will get the best client service available when making a personal injury claim.
New offices have just been opened in Pretoria. We have grown in experience and over the years we have acquired superior legal knowledge.
We get the best settlement on your behalf
Michael de Broglio and his teams specialise in personal injury claims, and we are very familiar with the law dealing with accidents and difficult recoveries.
You can expect a compassionate partner when you are pursuing your compensation. You will always be kept informed of the latest developments regarding your case, we will explain all of the procedures to you.
All the hard work will be taken out of your hands, and you can expect the highest settlement possible will be reached on your behalf.
We are the experts
De Broglio Attorneys have dealt with many injuries and situations such as traumatic brain injury claims and will refer you to trusted Doctors for sound medical advice and second opinions where necessary.
Michael and his team believe that treating you and your family with respect is very important and we will give your case our full attention.
This attitude shines through in our satisfied customers, we have an excellent record of successful head and brain injury claims. Visit our website and have a look at our client testimonials and case studies.
Michael de Broglio Attorneys – Traumatic Brain Injury Claim
Claim Type

Traumatic Brain Injury Claims
Benefits of Michael de Broglio Attorneys
MOTOR Accidents
ROAD Accident Fund
MEDICAL Negligence
DIVORCE
---
Michael de Broglio Attorneys - An expert team that will work hard for you
The more information and witnesses you can provide to us, the better we will be equipped to assist you in getting the very best settlement.
Firstly, what caused the injury
Was the injury due to negligence? Did you get medical attention or just advice? Compile all medical documents because they will be very important in building a strong case.
Lastly, how long ago did the injury happen?
Times between injuries and TBI head injury claims vary depending on many situations, but you can claim from the Road Accident Fund up to three years later!
As soon as you have all of your information together, contact de Broglio Attorneys and set up a consolation. From there the best course will be laid out for you, we will work to get your claim paid out in the shortest possible time.
We always aim for a successful outcome
We will take your case further, evaluating the existing evidence provided and speaking to the right people, to ensure that your case is handled in the right way.
We make sure we have a concrete backup in our story, before addressing the court, so that you won't have a back and forth approach, should there not be sufficient evidence or information.
Ensuring our clients get the head injury compensation they deserve is our aim. With ethical values and a strong defence team at hand, our clients will receive the best defence in order to win their case.
We know you have suffered enough, with the emotional, financial and social side of your injury, the last thing you need to worry about is your case. Let us handle this part for you after you make a claim and let us start working your case.
Let us guide you
At Michael de Broglio Attorneys we have flexible payment options and we will let you choose between our reasonable hourly rates and a contingency basis, meaning you only pay if you win.
The no-win no-pay option may seem like the best choice, but your personal situation may require more attention than the Contingency Fees Act allows, so contact Michael and his team will find out what the best course of action is for you.
Michael de Broglio Attorneys Contact
Contact Number
E-Mail
Website
Physical Address
127 Jan Smuts Avenue

Parkwood

Johannesburg

2196

South Africa
---
Postal Address
P.O. Box 2013, Parklands, 2121, South Africa
Opening Hours
Monday

08:30 – 17:00

Tuesday

08:30 – 17:00

Wednesday

08:30 – 17:00

Thursday

08:30 – 17:00

Friday

08:30 – 17:00

Saturday

– CLOSED

Sunday

– CLOSED