Expert negotiators
Specialists in medico-law
Dynamic and focused
In-page navigation
---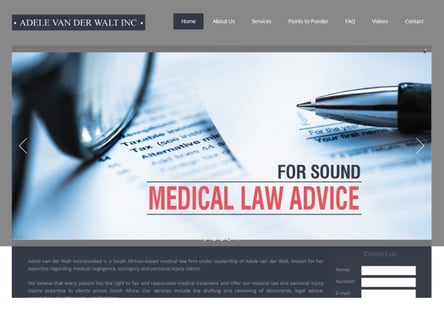 Author Adele van der Walt Inc.. Screenshot of Adele van der Walt Inc. website.


[Accessed April 3, 2023]
Adele van der Walt Incorporated - Expert negotiators
As dedicated specialists in medical law, we at Adele van der Walt Incorporated, provide a comprehensive range of legal services in this field. We work on cases of medical malpractice and negligence, insurance disability and public liability claims.
We are experts in claim institution and litigation. Our legal firm is dynamic and focused on innovation. We base our strategies on creative forward thinking as well as on the solid traditions in the practice of law. This combination has bought us major success over the years.
Our goal is to get justice
We work with many accident victims as well as the families who look to us to initiate anaesthesia death claims for their loved ones. We provide dedicated support and complete personal attention. Our services are based on compassion as well as on legal expertise and experience.
Our core goal is to serve justice and to defend the interests of our clients in a transparent, committed and effective manner. It is our belief that everyone deserves a better future. We help our clients to build it.
We are specialists in medical law
The health care system in South Africa is overly stressed. The statistics show that one doctor serves 4,000 people instead of a maximum of 1,500 as recommended by the World Health Organisation.
In this situation, cases of medical negligence including those involving anaesthesia malpractice are not uncommon. In case of injury or death caused by the negligent administration of anaesthesia, the victim or the victim's family can initiate a claim for medical negligence compensation.
We will help you reach your goal
At Adele van der Walt Incorporated, we are specialists in medical law and in initiating and litigating anaesthesia death claims. Our team of experienced medical attorneys will provide full assistance with case investigation and make the required steps for filing a formal compensation claim.
The victims of medical negligence and their families can obtain compensation for incurred medical expenses, loss of income and physical and emotional pain and suffering. We will use our expertise and skills to help you reach your goal.
Adele van der Walt Inc. – Anaesthesia Death Claim
Claim Type

Anaesthesia Death Claims
Benefits of Adele van der Walt Inc.
MEDICAL Negligence
ANAESTHESIA Deaths Claims
PUBLIC Liability
BIRTH Injuries
---
Adele van der Walt Incorporated - medical-legal experts
Adele van der Walt Incorporated is the medical-legal expert firm in South Africa, that thousands of clients go to when they have a medical negligence case.
Because we specialise in this kind of field, we have extensive experience in taking these cases further and winning them on behalf of our clients. To win your case, a full investigation would need to be made, along with our legal services, this partnership can be a powerful backing to help you get a compensation to cover the pain and loss from the death of your loved one.
How to claim
There are thousands of patients every year who succumb to anaesthesia during any medical procedure. This has become a serious problem, and without the legal assistance from an experienced team, you will not get very far in court. Our teams are passionate about the industry we work in. We fight for clients who can't, and we put all our efforts into proving the fact that there was negligence within the procedure to ensure a successful anaesthesia death claim.
We understand how difficult it is for the family of the deceased to come forward and have to go through the events again and again, in court and in a consultation. However, with an ethical and compassionate manner, we will make the experience as comfortable as possible for our clients. The more information we can gather for your case the better, and with our experts in the field, we can assist in getting what we need to build your case.
Our clients trust us and rely on us to take over the reins from what has been an emotional and draining situation in their lives. We fight on your behalf to get justice and get a remuneration for the suffering caused in your family from this negligent incident. Get the expert advice and legal backing for your medical, legal and anaesthetic death case. We would be happy to discuss your situation, and advise you if you have a case or not. Just contact us and we will be happy to chat or set up an appointment with you.
Adele van der Walt Inc. Contact
Contact Number
E-Mail
Website
Physical Address
337 Brooklyn Rd

Menlo Park

Pretoria

0081

South Africa