Ronald Bobroff & Partners
Productive and creative
Innovative solutions
Highly skilled professionals
In-page navigation
---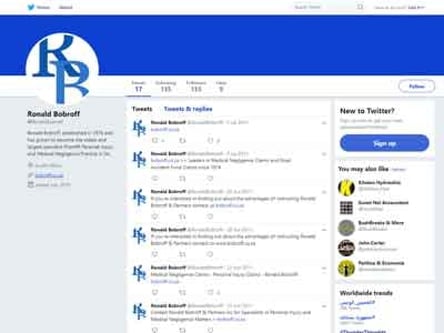 Author Ronald Bobroff & Partners. Screenshot of Ronald Bobroff & Partners website.


[Accessed April 5, 2023]
Ronald Bobroff & Partners Inc.- leaders in the field of medico-law
We have some of the most productive and creative lawyers in South Africa and this has made Ronald Bobroff & Partners Inc. a leader in the field of medico-law and personal injury law in the country.
Our law firm was established in 1974 and has been growing ever since. It is one of the oldest and largest of its kind in the country. We have won compensation awards totalling billions of rand for our clients. We have achieved precedents in our field.
We are proud of our success rate.
Our team includes not only experienced lawyers, but also in-house medical specialists who will propel your anaesthesia death claim forward. They operate in our separate medical negligence departments and play a major role in the building of solid cases for our clients.
We are fully committed to serving the interests of our clients in the most effective manner. Our service is based on integrity and dedication. We work solely with accident victims.
Expertise, skills and innovation
The administration of anaesthetic is used in the performance of surgeries and many other medical procedures. It is necessary to ensure the safety of the patient and the desired results of the procedure.
However, this involves health risks as well. In the case of medical negligence, anaesthesia can lead to a serious injury such as brain injury and even death. At Ronald Bobroff & Partners Inc., we specialise in anaesthesia claims including anaesthesia death claims.
Innovative legal solutions
Our job is to investigate the case and to determine whether there are grounds for initiating a claim found in medical malpractice law. If this is the case, we will take the necessary steps for instituting a claim and litigating it.
Our goal is to achieve the maximum possible personal injury compensation for the client that we represent. We will base our strategy for winning on our expertise, skills, innovation and creative approach to ensure the best possible outcome.
Ronald Bobroff & Partners – Anaesthesia Death Claim
Claim Type

Anaesthesia Death Claims
Benefits of Ronald Bobroff & Partners
MEDICAL Negligence
ROAD Accident Fund
ANAESTHESIA Deaths Claims
MOTOR Vehicle Accidents
MOTORCYCLE Accidents
LOSS Of Support Claims
SLIP And Fall Claims
DOG Bite Claims
PUBLIC Liability Claims
PRODUCT Liability Claims
BOATING & Rail Accidents
PERSONAL Injury
DIVORCE & Family Law Matters
---
Ronald Bobroff & Partners Inc.- We have a highly experienced team
Our part to play in helping you start the claim process is to prove that your loved one was the innocent victim, and a compensation payment should be awarded to the next of kin.
This case does need a lot of evidence and a highly specialised and experienced medical-legal team.
A compassionate partner
Fortunately for our clients, we stop at nothing to get your case on top. Our teams are equipped with the knowledge, qualification and the experience manage your anaesthesia death claim. We have resources at our disposal that are very thorough at getting the evidence and information we need to make your case stand in court.
We have had many success stories in these kinds of cases and will do whatever we can to make yours another one to add to the list. This very emotional journey can be very difficult for the family of the clients, and we do console our clients as best we can, through this tough time.
Ronald Bobroff & Partners Contact
Contact Number
E-Mail
Website
Physical Address
37 Ashford Road

Parkwood

Johannesburg

2193

South Africa
---
Postal Address
P O Box 1170Parklands, Johannesburg, 2121, South Africa