Diverse range of claims
Legal service for victims
'No win, no fee'
In-page navigation
---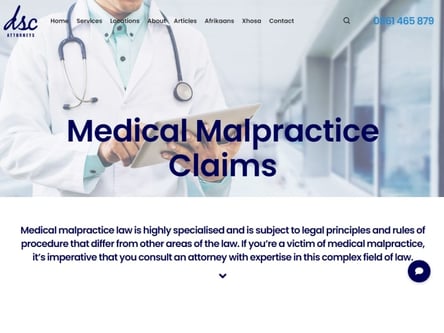 Author DSC Attorneys. Screenshot of DSC Attorneys website.


[Accessed April 3, 2023]
DCS Attorneys - Legal services for victims
For more than ten years, De Vries Shields Chiat Incorporated has been offering legal services to the victims of accidents in Cape Town and the local region.
Our law firm, which is popularly known as DSC Attorneys, was founded in May 2004 as a result of the merger of three legal practices. Today, we are among the leading firms specialising in personal injury law.
A dedicated team
We have a team of dedicated lawyers and other specialists who work together to achieve the best outcome for each and every client. Our services are based on the legal practice traditions of our predecessors and on the innovation which we bring every day.
We are fully capable of handling even the most complex anaesthesia death claims in line with the latest legislature and developments in our professional field. We provide legal services on "no win, no fee" basis to ensure that each and every accident victim has equal access to justice.
We can handle a range of claims
Medical negligence is negligence or omission on the part of a medical professional resulting in injury to the patient.
If you believe that you have been a victim of medical malpractice, we, at DSC Attorneys, may be able to help you to obtain medical negligence compensation for what has happened to you. We are specialists in medical malpractice law. We have experience in a diverse range of claims including anaesthesia death claims.
We will build a solid case
When you come to us for consultation, we will obtain all the details on your case and investigate it. The investigation is necessary to ensure that we can build a solid claim and devise an effective strategy for reaching a settlement. If a fair settlement is not reached, we will proceed with litigating the medical negligence or anaesthesia death claim. We work on "no win, no fee" basis. We will bear the costs associated with the case and will charge a fee only if we win.
DSC Attorneys – Anaesthesia Death Claim
Claim Type

Anaesthesia Death Claims
Benefits of DSC Attorneys
ANAESTHESIA Deaths Claims
SLIP & Trip
PRODUCT Liability Claims
PERSONAL Injury Claims
ROAD Accident
AVIATION Accidents
DOG Bites
LIFT
GATE & Door Malfunction
MEDICAL
MALPRACTICE
METRORAIL / Train Accident Claims
POLICE Assaults
PRODUCT Liability
WRONGFUL Arrest
---
DSC Attorneys - We are equipped with knowledge and experience
Medical malpractice cases such as an anaesthetic death claims can be a devastating and very emotional journey for clients. We at DSC, understand the tedious and traumatic effect a case like this can have on one's family.
We have a vast amount of years' experience in dealing with these kinds of cases, as they do require special attention and a detailed approach to legal issues. Clients who have suffered a loss in their family due to this kind of incident should make a claim, and we can assist you in taking your case further.
Is your claim valid?
A medical malpractice case involves an incident, and in this case, death, caused by the negligence of another person or system. The incident may have been avoided or could have been controlled. Cases like this can be ruled at not only surgeons but any medical practitioner using anaesthetics such as doctors, nurses and dentists. Our part to play in this journey is to prove that your loved one was the innocent victim, and compensation should be awarded to the next of kin.
This case does need a lot of evidence and a highly specialised and experienced medical-legal team. Fortunately for our clients, we stop at nothing to get your case on top. Our teams are equipped with the knowledge, qualification and the experience to manage your medical malpractice or even loss of support claim. We have resources at our disposal that are very thorough at getting the evidence and information we need to make your case stand in court.
We have had many success stories in these kinds of cases and will do whatever we can to make yours another one to add to the list. This very emotional journey can be very difficult for the family of the clients, and we do console our clients as best we can, through this tough time.
Don't wait until the case blows over, contact us as soon as possible by calling 086 146 5879 or visit our website online to see if you have a claim.
DSC Attorneys Contact
Contact Number
E-Mail
Website
Physical Address
Touchstone House, 7 Bree Street

Cape Town City Centre

Cape Town

8000

South Africa
---
Postal Address
P.O. Box 1456, Cape Town, 8000, South Africa
Opening Hours
Monday

09:00 – 17:00

Tuesday

09:00 – 17:00

Wednesday

09:00 – 17:00

Thursday

09:00 – 17:00

Friday

09:00 – 17:00

Saturday

– CLOSED

Sunday

– CLOSED