Achieving excellence
Handle complex cases
Flexible and adaptive
In-page navigation
---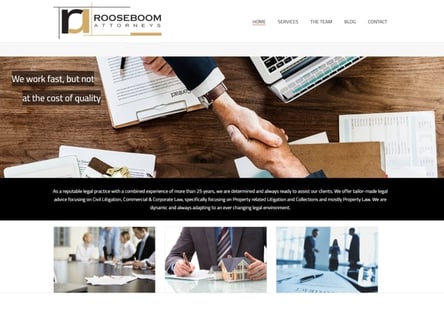 Author Rooseboom Attorneys. Screenshot of Rooseboom Attorneys website.


[Accessed April 3, 2023]
Rooseboom Attorneys - we handle even the most complex cases
Our dynamic law firm has an impeccable reputation in our professional field of anaesthesia death claims and among our clients.
At Rooseboom Attorneys, we are focused on achieving excellence in everything which we do for our clients. We are highly flexible and adaptive to the developments in our field and to the changing needs of the people that we work for.
We will find the best legal solution
Our core goal is to provide the best legal outcome to the client irrespective of how complex the personal injury claim case at hand is. We take pride in the fact that we offer a diverse range of legal services in an effective, professional and friendly manner.
We are determined to add value, to resolve problems, to achieve greater growth and to solidify our positions further. Our mission is to combine our exceptional legal expertise with the unique talent and strengths of each professional on our team. We are focused on building lasting relationships with our clients based on trust and professionalism.
We specialise in medical malpractice law
If a medical practitioner makes a mistake while making an examination, running tests or providing treatment, this can be categorised as medical malpractice.
At Rooseboom Attorneys, we specialise in medical malpractice law and have the resources and experience to handle different types of cases including complex ones such as anaesthesia death claims.
We provide full legal assistance to victims and/or their families to receive compensation for the incurred damage.
Medical malpractice law is highly specific and complex
We are fully equipped to defend the rights of our clients and to achieve the compensation award which they deserve. Victims can be compensated for any medical expenses, income loss and suffering.
We will begin our work by investigating your case. It a claim can be initiated under the current law in South Africa, we will institute it on your behalf. We will take all the necessary steps to ensure that a successful outcome is reached.
Rooseboom Attorneys – Anaesthesia Death Claim
Claim Type

Anaesthesia Death Claims
Benefits of Rooseboom Attorneys
MEDICAL Negligence
MOTOR Vehicle Accident Claims
PERSONAL Injury
ANAESTHESIA Malpractice
---
Rooseboom Attorneys - A detailed approach
We have many years' experience in dealing with these kinds of cases, as they do require special attention and a detailed approach to legal issues.
Clients who have suffered a loss in their family due to this kind of incident should give us a call, and we can assist you in taking your medical negligence claim further. A medical malpractice case involves an incident, and in this case, death, caused by the negligence of another person or system.
Claiming for compensation
The incident may have been avoided or could have been controlled. Cases like this can be ruled at not only surgeons but any medical practitioner using anaesthetics such as doctors, nurses and dentists. Our part to play in the anaesthesia death claims process is to prove that your loved one was the innocent victim, and a compensation payment should be awarded to the next of kin. We want to help the family of a victim receive compensation and receive justice.
Rooseboom Attorneys Contact
Contact Number
E-Mail
Website
Physical Address
151 Wilson Street, Northcliff Ext 22

Johannesburg

Gauteng

South Africa
---
Postal Address
P.O. Box 731089, Fairland, 2030, South Africa
Opening Hours
Monday

08:00 – 16:30

Tuesday

08:00 – 16:30

Wednesday

08:00 – 16:30

Thursday

08:00 – 16:30

Friday

08:00 – 16:30

Saturday

– CLOSED

Sunday

– CLOSED