Personal dedication
Compensation you deserve
Fully supported case
In-page navigation
---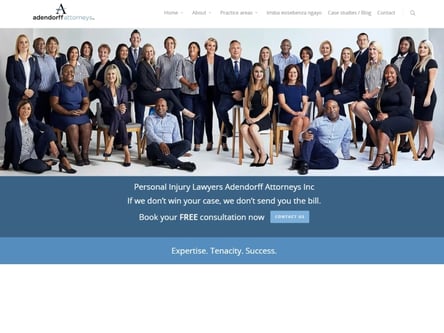 Author Adendorff Attorneys. Screenshot of Adendorff Attorneys website.


[Accessed March 30, 2023]
Adendorff Attorneys - Expert legal services
With our narrow specialisation in personal injury law and our long-term experience, we, at Adendorff Attorneys, can achieve the compensation goals of accident victims.
We use professional expertise in the preparation and litigation of the cases that we handle. We have a team of attorneys and experts in other fields to build strong assault claim cases. One of the things which make our service unique is our great personal dedication to each and every client.
We serve South Africans
We have won many complex cases and achieved high assault and criminal injury compensation for hundreds of South Africans. We are proud of our success and of the fact that we have built strong partnerships with clients.
All people should have the same access to justice. This is one of our core principles. That is why we serve local people and visitors to the country with the same dedication and passion. You can take advantage of our "no win - no fee" service.
We will prepare your case
There are cases in which law enforcement officers abuse the power which they are given and mistreat citizens. This type of misconduct has various forms from the cause of injury and sexual abuse to racial profiling.
If you are a victim of such misconduct, you can rely on Adendorff Attorneys to help you with an assault, criminal injury or personal injury claim.
If there are reasonable grounds for making a claim, we will handle your case and use a set of methods to achieve the compensation which you deserve on your behalf.
A professional service
We will use our skills and knowledge to prepare a fully supported case. We are experts in litigation and in negotiation as well.
We will work with commitment and dedication to helping you receive the assault compensation amount which corresponds to the suffering which you have experienced. Our service is both professional and friendly. We will protect your rights and build a relationship based on trust with you.
Adendorff Attorneys – Assault Claim
Claim Type

Assault Claims
Benefits of Adendorff Attorneys
TRAIN Accidents
MEDICAL Negligence / Birth Injuries
SLIP And Fall Accidents
POLICE Unlawful Arrest / Detention & Assault
PRODUCT Liability / Defective Products
DOG Bites
BURN Injuries
SPINAL Cord Injuries
HEAD And Brain Injuries
---
Adendorff Attorneys - Effective procedures against assault claims
Adendorff Attorneys have been practising law in South Africa for a number of years we have assisted clients with all kinds of personal injury claims and with assault cases, is one area that we are rather passionate about.
These cases need a lot of attention and care, especially because our clients are often quite emotionally traumatised from their experience.
Assault cases come in a number of forms including:
unlawful arrest or detention
illegal or improper search
racial profiling
excessive use of force
sexual abuse
It is not easy for the victim to speak out in most of these cases. Sometimes the assault inflicted on the client is one of many which has happened to them. Whatever your circumstances may be, don't wait a minute longer to make a claim. Get in touch with our firm today, and let us help you get through your situation together.
Evidence is important
We have noticed more than ever an increase in police assault charges. This is becoming a topic of conversation in and out of the courtroom. If you have been assaulted, by anyone, you would need to lay a charge or report the incident to the police. When we have an initial consultation with our clients, we encourage you to bring as much information with you.
This can be in the form of police reports, medical notes and photographs. This evidence will work in your favour when we put the assault claim and case together on your behalf. No one deserves to be assaulted, especially as an innocent victim. We will enforce the law and work on your case.
You can receive compensation for pain and suffering, financial cover for your medical bills, and most of all, the person who assaulted you could face jail time. These brutal incidents should never be left alone. You could be just the first of their victims, and someone else could get hurt later down the line. We understand the emotional distress this kind of incident can cause a person, however, we are here to assist you through it all.
Adendorff Attorneys Contact
Contact Number
E-Mail
Website
Physical Address
2nd Floor, Tyger Valley Chambers Three, 27 Willie van Schoor Drive (Durban Road)

Belville

Cape Town

7536

South Africa
---
Postal Address
PO Box 4034, Tyger Valley, 7536, South Africa