Best legal solutions
Highest chances of success
Flexible, innovative methods
In-page navigation
---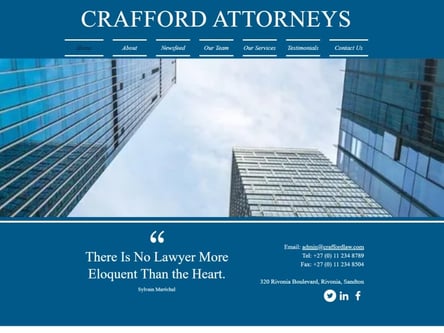 Author Crafford Attorneys. Screenshot of Crafford Attorneys website.


[Accessed March 30, 2023]
Crafford Attorneys - A diverse range of legal services
Crafford Attorneys is a law firm with an excellent reputation and a large and diverse client base. Our areas of speciality include family law, personal injury law and commercial law.
We offer a diverse range of services to match the various needs of South Africans. We handle and litigate personal injury claims. We assist parents with child custody. We provide business rescue.
Professional and dedicated
Our team consists of legal and other specialists who have an excellent reputation in their field. All experts work together to resolve legal matters in an efficient and time-efficient manner.
We draw on our long-term experience and vast knowledge of the national legislation to achieve the goals of our clients.
Our services are based on professionalism and dedication. We devise a unique strategy for each and every assault claim to ensure the highest chances of success.
We adopt flexible methods which combine tradition and innovation. You can contact us directly to begin our partnership.
Victims have the right to get compensated
In cases of police assault, the victims have the right to get compensated for their suffering. At Crafford Attorneys, we are specialists in assault claims.
We assist victims with receiving compensation for what has happened to them by providing dedicated legal services based on experience and expertise.
With our professional help, you can get compensated for bodily injury and other types of damage which you or a loved one has incurred.
The best legal solutions
There are different types of police misconducts which fall into the assault category.
These include illegal search, unlawful arrest, excessive use of force, an injury incurred in prison and sexual abuse.
We follow a strict method for building each and every case while combining different techniques for achieving the goals set in front of us.
We will begin with investigating your assault or criminal injury claim. If there are legal grounds for a claim, we will handle it and work towards achieving compensation for you.
Crafford Attorneys – Assault Claim
Claim Type

Assault Claims
Benefits of Crafford Attorneys
---
Crafford Attorneys - Expert legal assistance
Crafford Attorneys have worked with thousands of personal injury claims that have been caused through intent to harm another person. In most of these cases, the claim would be that of assault.
The repercussions of these acts can land the victim being seriously hurt, and in need of medical attention, and even surgery. Some clients are so emotionally traumatised, they cannot live life as they normally did, always looking over their shoulder and petrified to go out into the real world as they did before the assault. We can assist with head and brain injury claims as well as any form of personal injury claim.
We will get justice for you
There are so many factors that go into a case like this. We are experienced and qualified to take on your case should you be involved in such an act of violence in your life. These cases can be very drawn out, with the person who committed the cries having the backup of their own attorneys.
The cases are never cut and dry. We need our clients to provide as much evidence as possible to make their case stand out in court. Medical reports, police reports, photographs and anything else you can provide will help in your favour. Contact us as soon as you can, for an initial consultation to make a claim, and we will go through the event with you.
This will help us establish where we are, and how we can help you. The outcome of your case could result in a financial compensation to cover your pain and suffering, emotional trauma, medical bills and more. We will always do our utmost best to help our clients.
We use experts in the field to gather as much evidence and information as they can build a winning case on your behalf. We strive to get justice for our clients. Call us and arrange a meeting, and let us help you get through this very tough and emotional time in your life, let us get justice for what you have been through. No assault claim is too big or too small for our experts in the legal field.
Crafford Attorneys Contact
Contact Number
E-Mail
Website
Physical Address
Emerald Blvd

Modderfontein

Lethabong

1609

South Africa
Opening Hours
Monday

09:00 – 17:00

Tuesday

09:00 – 17:00

Wednesday

09:00 – 17:00

Thursday

09:00 – 17:00

Friday

09:00 – 17:00

Saturday

– Closed

Sunday

– Closed