20 Years' experience
Excellent reputation
Lecturers in the legal field
In-page navigation
---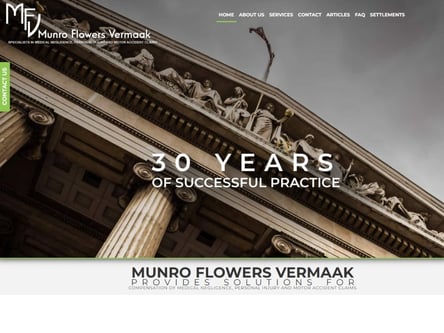 Author Munro Flowers & Vermaak. Screenshot of Munro Flowers & Vermaak website.


[Accessed March 30, 2023]
Munro Flowers & Vermaak - we have an excellent reputation
Over the years, Munro Flowers & Vermaak has earned an excellent reputation as one of the leading legal firms specialising in personal injury law and medico-law.
We have more than 20 years of experience in helping accident victims to obtain compensation for the ordeal which they have gone through.
We handle personal injury claims, road accident claims and medical negligence claims of various types, sizes and complexity. We have a strong record of achievement with individual compensations exceeding R10 million.
You will get the best representation
Our team is led by two partners in the firm - Stephen Flowers and Caren Vermaak. They are recognised as two of the major experts in their field in South Africa. They have been lecturers at the invitation of The Law Society for over a decade now.
Our team includes specialists in the fields which are related to the medical, personal injury and assault claims that we handle. This enables us to provide the best representation to our clients in all sorts of legal cases.
You can get compensated for medical expenses
At Munro Flowers & Vermaak, we have vast experience with helping people who have been assaulted by the police to receive assault compensation. If you are a victim of police misconduct or brutality, you have the right to get compensated.
It does not matter whether you have been physically injured or suffered another type of damage. You can get compensated for medical expenses, income and benefit loss and pain and suffering.
Take the first step
The first step involves a consultation with our team. We will investigate your case to confirm that you have grounds for making a claim and will do this on your behalf.
We will follow a strict procedure and keep the deadlines set by the rules and regulations for such cases.
We will use our knowledge and skills to prosecute your personal injury claim with high efficiency and complete professionalism. You can expect that you will reach your goal without delay when you work with us.
Munro Flowers & Vermaak – Assault Claim
Claim Type

Assault Claims
Benefits of Munro Flowers & Vermaak
3RD Party Claims
ENVIRONMENTAL Law
MEDICAL Negligence
DOG Bite Claims
MVA Claims
PERSONAL Injury
---
Munro Flowers & Vermaak - Let us help you
The sooner you make contact with us, the sooner the case and assault claim can be done. While the haste of any case is pertinent, you must not rush to any brash actions.
Assault cases are extremely complicated and rely on expert and scientific analysis. We are more than capable of providing the necessary expertise and analysis.
Claiming for assaults
Once you have launched a claim, we will gather all your medical records and evidence relating to the case, including interviewing witnesses and defendants.
You will not be required to do any administration for proceedings, you are only required to provide any and all evidence relevant to your assault or criminal injury claim.
If the defendant is willing to enter into a 'settle out of court' agreement, we will handle the compensation calculations and requirements.
Munro Flowers & Vermaak Contact
Contact Number
E-Mail
Website
Physical Address
3rd Floor, The Mall Offices11 Cradock Ave

Rosebank

Johannesburg

2196

South Africa
---
Postal Address
P O Box 2426, Saxonwold, 2132, South Africa