Exceeding high standards
Personal attention
Short resolution time
In-page navigation
---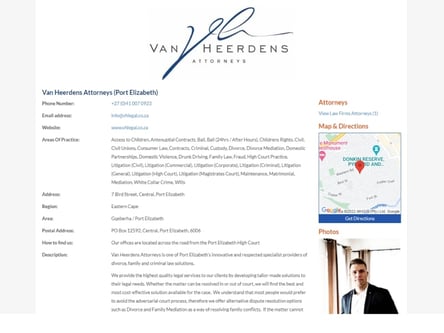 Author Van Heerdens Attorneys. Screenshot of Van Heerdens Attorneys website.


[Accessed March 30, 2023]
Van Heerdens Attorneys - We will meet your legal expectations
Our law firm provides a full range of legal services. At Van Heerden's Attorneys, we are committed to meeting and exceeding the highest standards of quality in the provision of legal assistance and advice.
We have the experience and expertise and the resources necessary to provide a workable solution irrespective of the complexity of the legal issue which the client faces. We can assist with a range of personal injury claims and medical negligence claims.
Each and every case that we face is different
That is why we provide personal attention and develop a unique strategy which will produce the best possible outcome.
We do not limit our means to the well-established and conventional methods of practising law. We base our services on innovation and not only on tradition.
We are flexible and this enables us to win even complex cases in a time-efficient manner. When you come to us, we will handle your assault claim on the basis of our professional values which include integrity, honesty, compassion and respect.
We specialise in personal injury law
At Van Heerden's Attorneys, we specialise in personal injury law, among other fields. We have experience with assault cases and offer full legal assistance to victims and their families. No one is perfectly safe from assault.
It can come from a private person or from a law enforcement officer.
It can cause serious bodily injury and have negative financial and emotional consequences.
Victims have the right to claim compensation. Our job is to initiate assault claims and to use our knowledge and skills to win the rightful compensation awards for victims who come to us for help.
Expert negotiating skills
Our methods for handling such cases go beyond litigation.
We want to achieve the shortest possible resolution times and the highest possible injury or assault compensation.
That is why we use creative methods for reaching a settlement as well. They are based on our expertise and experience and enable us to be extremely flexible and highly successful.
Van Heerdens Attorneys – Assault Claim
Claim Type

Assault Claims
Benefits of Van Heerdens Attorneys
MEDICAL Negligence Claims
ROAD Accident Fund Claims
MOTOR Vehicle Accidents
LOSS Of Support Claims
SLIP And Fall Claims
DOG Bite Claims
ASSAULT Claims
PRODUCT Liability Claims
AVIATION
BOATING & Rail Accidents
WRONGFUL Death
---
Van Heerden's Attorneys in South Africa are the legal experts
We have assisted clients with some of the most tedious and complicated cases seen to date, and our win ratio is excellent.
Assault claims can become highly complex, especially should the SAP be involved. Although these assault cases seem to be on the rise, we take an aggressive approach to fight for our clients, no matter who they may be up against.
Claims against assault
If you have been hurt intentionally, be it from a police officer, from a person or individual that you know or don't know, or even a spouse, contact us as soon as possible. The first step would be to lay a charge at the police station, to prove that you reported the incident.
You may even need medical attention, in these cases, a medical report or doctor noted can be used in court to show the extent of your injuries. Photographs of the injuries or the person who hurt you are also a major help in your case.
Whatever your situation may be, let us put together a complete case, and take it from there. Although these cases take time and are often emotionally draining having to relive the incident over and over, the outcome of seeing justice served is worth the fight. Your compensation earned for the course can cover medical bills which can build up from an injury sustained.
You can claim for pain and suffering, damage to property for home invasion, you can also claim for loss of income, should you not be able to work from the incident and injuries. Get in touch with us as soon as you can, so we can get started with your case. Let us stand up for you when you can't! The best way forward to getting justice for these unnecessary crimes is to make the bold first move and get legal assistance.
Van Heerdens Attorneys Contact
Contact Number
E-Mail
Website
Physical Address
7 Bird St, Central

Port Elizabeth

Eastern Cape

6001

South Africa
---
Postal Address
PO Box 12592, Port Elizabeth, 6006, South Africa
Opening Hours
Monday

08:00 – 16:30

Tuesday

08:00 – 16:30

Wednesday

08:00 – 16:30

Thursday

08:00 – 16:30

Friday

08:00 – 16:30

Saturday

– CLOSED

Sunday

– CLOSED