Mohapi J Sepeesa Attorneys
Professional legal advice
Affordable, high-class service
Just resolutions
In-page navigation
---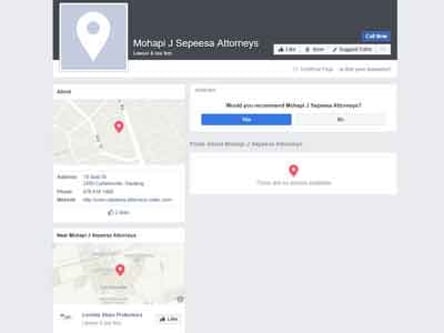 Author Mohapi J Sepeesa Attorneys. Screenshot of Mohapi J Sepeesa Attorneys website.


[Accessed April 5, 2023]
Mohapi J Sepeesa - Professional legal services
Mohapi J Sepeesa (MJS) Attorneys is a promising law firm based in Carleton in Johannesburg. We offer professional legal services which are affordable and uphold a close relationship with our clients.
MJS Attorneys was established by Mohapi J Sepeesa who has over ten years of experience in law. Mohapi currently leads a team of young and dynamic South African attorneys who are committed to resolving your legal issue.
You will receive the best representation
Our firm strives for opportunity and success, acting as a subsidiary of other larger firms and companies. We combine our skills and expertise to ensure our clients receive the best representation in assault claims.
In the event that you require legal support and require more information, contact our office today and let us advise you. We are committed to providing our clients with affordable, high-class services.
A comprehensive set of legal services
We know our capabilities and potential, therefore we draw on the strength of affiliate firms to handle bigger and more complex cases.
We provide a comprehensive set of legal services to our clients and specialize in personal injury law amongst other fields. The firm has experience in handling virtually any claim type, including slip and fall as well as dog bite claims.
Expect a friendly and professional service
In the event that you are subject to a wrongful accident, we will come alongside you and thoroughly examine your case.
Our lawyers have the right knowledge and skills to ensure your case is presented and will push for a just resolution. You can expect friendly and professional service from our team.
We will discuss your situation, investigate the facts and if you have the legal right to obtain assault compensation, we will build your case based on solid evidence and detailed witness testimony.
Mohapi J Sepeesa Attorneys – Assault Claim
Claim Type

Assault Claims
Benefits of Mohapi J Sepeesa Attorneys
ANIMAL Bites
ASSAULT
BACK And Neck Injury
BIRTH Injury
BRAIN Injury
BURN Injuries
CAR Accident
INDUSTRIAL Injuries
MOTOR Vehicle Accidents
MOTORCYCLE Accident
NEGLIGENCE
PERSONAL Injury
RAILROAD Accidents
SLIP And Fall
---
Mohapi J Sepeesa Attorneys - Building strong cases for our clients
We will need your support in providing us with as much information about the incident as possible. This will help us build a strong assault claim on your behalf.
You will need to prove:
The fault/negligence of the responsible party
The circumstances of the accident
That your injuries incurred did indeed arise from the accident
The cost of treating your injuries
Any financial losses incurred as a result of the accident
Navigating the legalities of the claims process can be frustrating and overwhelming. MJS Attorneys aims to guide our clients through the channels of making a claim with ease.
Mohapi J Sepeesa Attorneys Contact
Contact Number
E-Mail
Website
Physical Address
18 Gold Street

Carletonville

Pretoria

2500

South Africa