Ronald Bobroff & Partners
Established in 1974
Impeccable expertise
Negotiation and litigation
In-page navigation
---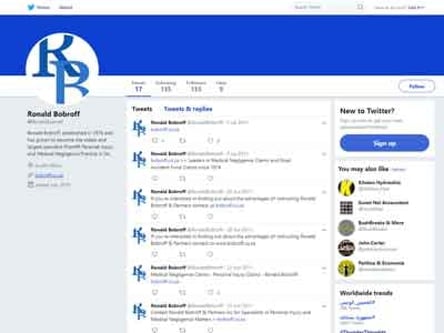 Author Ronald Bobroff & Partners. Screenshot of Ronald Bobroff & Partners website.


[Accessed April 5, 2023]
Ronald Bobroff & Partners Inc - Our services are based on expertise
Ronald Bobroff & Partners Inc is a legal firm which was established in 1974. We have narrow specialisation in the field of personal injury claims and medical negligence claims.
We have four decades of experience in the industry. We have a long track record of success. We have handled complex cases of diverse nature and achieved high compensation the people who had chosen to work with us. Our services are based on expertise and full dedication to our clients and their interests.
We have effective negotiating techniques
On our team, we have both attorneys and specialists in other fields which are relevant to the assault claims that we initiate on behalf of our clients.
This enables us to back our cases with impeccable expertise. We keep up to date with the current legislation in the country.
We use effective techniques for negotiation and litigation which are based on our firm's tradition and on the innovations which we implement.
Claim for compensation after an assault
Assault is a legal term which is most often used to refer to physical harm being caused to one person by another. Not all cases of violence are considered to be assault.
If the assault is proven, however, the victim has the right to get compensated.
At Ronald Bobroff & Partners Inc, we specialise in handling and litigating assault claims of various kinds. We can help you or a family member to receive compensation.
You have the right to claim for compensation
Our law firm has extensive experience in these types of personal injury claims. Our team of attorneys and support specialists will work professionally to defend your rights in the most effective way and to achieve a compensation award which corresponds to what has happened to you.
In general, the victims of assault can get compensated for the medical expenses which they have incurred or will incur, for lost past and future earnings in the form of a loss of support claim and benefits and for the pain and suffering which they experience.
Ronald Bobroff & Partners – Assault Claim
Claim Type

Assault Claims
Benefits of Ronald Bobroff & Partners
MEDICAL Negligence
ROAD Accident Fund
MOTOR Vehicle Accidents
MOTORCYCLE Accidents
LOSS Of Support Claims
SLIP And Fall Claims
DOG Bite Claims
PUBLIC Liability Claims
PRODUCT Liability Claims
BOATING & Rail Accidents
PERSONAL Injury
DIVORCE & Family Law Matters
---
Ronald Bobroff & Partners Inc - Get the evidence ready
These cases can be very drawn out, with the party who committed the transgression having the backup of their own attorneys.
The assault or criminal injury claims are never cut and dry. We need our clients to provide as much evidence as possible to make their case stand out in court.
Some of the documentation needed
Medical reports, police reports, photographs and anything else you can provide will help in your favour.
Contact us as soon as you can, for a consultation, and we will go through the incident with you. This will help us establish where we are, and how we can help you.
The outcome of your case could result in a financial compensation to cover your pain and suffering, emotional trauma, medical bills and more.
We will always do our utmost best to help our clients and achieve the best possible outcome. We use experts in the field to gather as much evidence and information as they can build a winning assault claim on your behalf.
Ronald Bobroff & Partners Contact
Contact Number
E-Mail
Website
Physical Address
37 Ashford Road

Parkwood

Johannesburg

2193

South Africa
---
Postal Address
P O Box 1170, Parklands, Johannesburg, 2121, South Africa