Expanded range of services
Competent legal advice
Free consultation
In-page navigation
---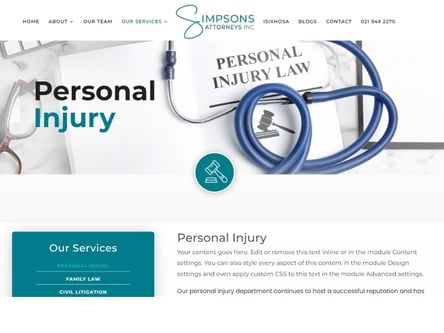 Author Simpson's Attorneys. Screenshot of Simpson's Attorneys website.


[Accessed March 30, 2023]
Simpsons Attorneys - We fight for justice
For more than two decades, Simpsons Attorneys has been one of the leading South African law firms in the personal injury field.
We have assisted many accident victims in Cape Town and the surrounding area to receive justice and compensation for their suffering.
Our services are focused on personal injury claims resulting from medical negligence, accidents, assault and product and public liability. We have recently expanded our range of services to include debt collection.
We work with passion and dedication
We provide competent legal advice and services based on our knowledge and skills. At present, our team includes three litigation attorneys, three candidate attorneys and different specialists in the fields which are related to the cases that we handle.
We have the resources necessary to resolve any legal matter with precision and speed. We offer free initial consultation on any assault claim. We provide our services on a no-win no-fee basis. We will not charge you anything if we do not achieve your set goal.
A team of legal experts
The definition of assault is the intentional and unlawful application of force to another person either directly or indirectly. At Simpsons Attorneys, we have a team of expert personal injury lawyers who handle assault claims of various levels of complexity.
We are fully committed to assisting victims of assault with receiving compensation for their injuries and the related financial and emotional issues.
Victims of assault are entitled to obtaining assault or criminal injury compensation for medical bills, loss of earnings and other benefits and physical and emotional suffering.
We will investigate your case
Whether the violence against you was committed by a private person or the police service of the country, we will help you to win.
We offer a free initial consultation to get familiar with your case. We will then investigate it and initiate and litigate a claim if there are legal grounds for claiming compensation. We will use all of our resources and dedication to helping you get the award which you rightfully deserve.
Simpson's Attorneys – Assault Claim
Claim Type

Assault Claims
Benefits of Simpson's Attorneys
MOTOR Vehicle Accidents
PRODUCT Liability
ASSAULT & Wrongful Arrest
PUBLIC Liability & Slip And Fall Cases
DOG Bite Cases
RAIL Accidents
MEDICAL Negligence
---
Simpsons Attorneys - You can get compensated with our help
Simpsons Attorneys Personal Injury Lawyers are specialists in assault cases and are extraordinarily devoted to helping innocent clients in getting remuneration for the financial implications of their assault and medical needs.
Likewise, we examine whether claims against the SAPS ought to incorporate acts of unlawful arrest, assault and any unnecessary pain and suffering by our client. We can initiate head and brain injury claims as well as complex medical negligence claims.
Payment options
On the off chance that you have a real assault claim, our no-win no-fee system implies that you won't pay a penny if your claim isn't effective.
In the event that you have been a casualty of brutality, wrongful arrest, detainment as well as assault, you will be able to lay a charge against the plaintiff, for emotional trauma or/and physical assault and injuries. Our cases can be held against the SAP, a private individual, or even a spouse would it entail battery or abuse.
Gather the relevant evidence and documentation
If the case is charged against the SAP, a formal investigation would have to be done and the SAP would have their own attorney and the legal team on board. This can be a little intimidating, however, the truth will come out and you will get justice for their actions.
When it comes to an individual, you would need to lay an initial charge at the police station against the person who assaulted you. This report, as well as any medical reports and photographs, can be very helpful in putting your case together.
Until a verdict is announced in your case, everyone is presumed innocent until proven guilty. We make use of our expert resources to divulge any information that could help build your case into a winning one.
If you have been assaulted and need a team of legal experts to take your case, contact our firm today. We will provide all the legal assistance you need to ensure that no stone is unturned when finding the truth, and convict the person who harmed you.
Simpson's Attorneys Contact
Contact Number
E-Mail
Website
Physical Address
14 Karoo St, Kempenville

Bellville

Cape Town

7530

South Africa
Opening Hours
Monday

08:00 – 16:30

Tuesday

08:00 – 16:30

Wednesday

08:00 – 16:30

Thursday

08:00 – 16:30

Friday

08:00 – 16:30

Saturday

– CLOSED

Sunday

– CLOSED