Award-winning firm
Dedicated to justice
Long term presence
In-page navigation
---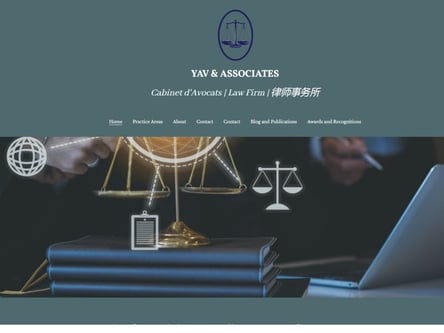 Author Yav & Associates. Screenshot of Yav & Associates website.


[Accessed March 30, 2023]
Yav & Associates - Effective legal solutions
Our law firm, Yav & Associates, has a long-term presence in the industry and has earned an excellent reputation not only in South Africa but throughout the whole continent.
We are dedicated to helping individuals and businesses receive justice and reach their goals by assisting them to apply for compensation. We offer legal, fiduciary and corporate services. We specialise in various fields of law from business law and intellectual property law to labour law and family law.
We build long-term partnerships with our clients
Our team consists of experienced attorneys and specialists in many other fields including accounting and finance and management. Our combined expertise and the modern resources which we use enable us to deliver fully comprehensive services of the highest quality.
We have the most effective solutions for assault claims. Our achievements are recognised not only by our clients but by professional associations, independent organisations and the media. We won DealMakers award in 2013 and Corporate INTL global award in 2012.
Compensation for injuries and suffering
No person is every fully protected from assault. Unfortunately, members of the public can be assaulted not only by private persons but by the police as well.
Regardless of who has used violence against you, you have the right to seek personal injury compensation for your bodily injury and related suffering. We, at Yav & Associates, will help you with this.
We can initiate and litigate assault claims
We use our knowledge and skills to conduct a thorough investigation and to build a strong case based on solid evidence, witness testimony and expert testimony.
We work with a network of specialists in fields related to our cases to ensure that we are best prepared for negotiation and litigation.
We devise winning strategies which we implement with creativity and skill.
Our experience is one of our major advantages. We know how to handle assault claims of all sizes and levels of difficulty.
Yav & Associates – Assault Claim
Claim Type

Assault Claims
Benefits of Yav & Associates
ANIMAL Bites
ASSAULT
AVIATION Accidents
BIRTH Injury
BOATING Accident
BRAIN Injury
CRIMINAL Defense
CRUISE Ship Accidents
INDUSTRIAL Injuries
MEDICAL Malpractice
MOTOR Vehicle Accidents
MOTORCYCLE Accident
PERSONAL Injury
PRODUCT Liability
SLIP & Fall
---
Yav and associates - The assault claim experts
If the need arises, we will organise the necessary requirements for proceeding with a trial, as well as contacting the defendant and their legal team.
Yav and associates will advise you on your assault claim before proceeding with legal action, and only then will the case be launched.
The firm prides itself on providing honest and thorough legal representation and will guide you through the entire process.
We will always keep you informed
When the case has ended, a ruling is made and your lawyer will propose a compensatory figure that they deem adequate which serves as your compensation for criminal injury or assault.
However often lawyers seek excessive amounts in an attempt to gain a higher fee, often at the risk of the case, but Yav and associates do not seek unlikely sums and guarantee their continuous transparency and honesty.
Yav & Associates Contact
Contact Number
E-Mail
Website
Physical Address
58 17th Ave

Edenvale

Johannesburg

1609

South Africa
Opening Hours
Monday

07:30 – 17:00

Tuesday

07:30 – 17:00

Wednesday

07:30 – 17:00

Thursday

07:30 – 17:00

Friday

07:30 – 17:00

Saturday

– CLOSED

Sunday

– CLOSED