Reliable reputation
Full legal assistance
Best possible outcome
In-page navigation
---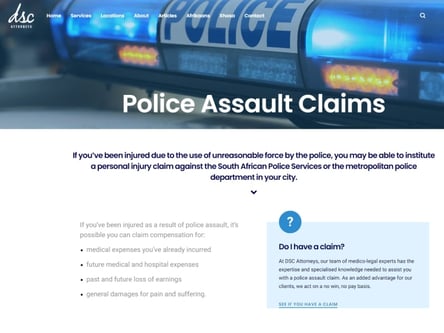 Author DSC Attorneys. Screenshot of DSC Attorneys website.


[Accessed March 30, 2023]
DSC Attorneys - A dedicated legal partner
When three large legal firms specialising in personal injury law and operating in Cape Town merged in 2004, De Vries Shields Chiat Incorporated. The teams of the three firms got well integrated right from the start.
The combination of experts and resources enabled the new firm, popularly known as DSC Attorneys, to work on larger and more complex assault claims with greater time efficiency.
We use an innovative approach
Today, after more than ten years in the industry, we have an excellent reputation as a reliable and dedicated legal partner with the abilities and skills to handle all kinds of personal injury claims with great success.
We combine innovative approaches with honoured traditions to deliver the most effective solutions to our clients who make a claim through us.
We stay up to date with all of the latest changes in legislature and developments in the field of law. We provide our professional legal services on "no win - no fee" basis to give each client access to justice.
We will build a strong case for you
If you or a member of your family got injured as a result of the use of unreasonable force by the police, you may be able to institute a personal injury claim. A claim can also be instituted in the case of an unlawful arrest.
In such cases, DSC Attorneys can provide full legal assistance to you. We will work with you from start to finish to compile and prosecute the assault claim.
You can get compensated for medical bills, loss of earnings and support for pain and suffering.
Professional skills
There is a set procedure for the institution of assault claims and set legal deadlines as well. That is why time is of paramount importance.
The sooner you come to us, the higher your chances of obtaining head or brain injury compensation will be.
We will use our expertise in the field and our professional skills to achieve the best possible outcome. We work on "no win, no pay" basis.
DSC Attorneys – Assault Claim
Claim Type

Assault Claims
Benefits of DSC Attorneys
SLIP & Trip
ROAD Accident
AVIATION Accidents
DOG Bites
LIFT
GATE & Door Malfunction
MEDICAL
MALPRACTICE
METRORAIL / Train Accident Claims
POLICE Assaults
PRODUCT Liability
WRONGFUL Arrest
---
DSC Attorneys - We help clients with assault cases
De Vries Shields Chiat Incorporated (DSC) have years of experience in helping clients with assault claims and personal injury cases. The overwhelming increase in assault cases in South Africa today is becoming a concern.
We have had a number of clients come to us with incidents that involve police brutality, unlawful arrest, rape, and other violent acts which have been inflicted on them. These innocent victims are emotionally traumatised and often too scared to speak out. This is where we have a connection with our clients.
Legal support and advice
We are there to provide the support and legal assistance for those who need an experienced and proactive team of attorneys to fight on their behalf. We know the system, we know the corners the plaintiffs hide behind, we know how to protect you.
Clients need to contact us as soon as possible after the incident, to keep the story fresh in their mind so that we can start building a case from early after the assault. Clients should provide all police records/reports, medical and doctor notes and reports and photographs. These can work in your favour when we put your case together.
If you know you were an innocent victim in such an act of violence or emotional distress, let us help you to get justice for your injuries by making an assault or criminal injury claim. There are a number of outcomes from a case like this. The culprit can get jail time for his/her actions. The person responsible for the assault can face charges, and you can get a financial compensation for your pain, suffering, emotional trauma and medical bills.
You can contact us at 086 146 5879 or simply browse through our website online to see if you have a claim. Don't let this incident keep you from living a normal life, let us help you, today.
DSC Attorneys Contact
Contact Number
E-Mail
Website
Physical Address
Touchstone House, 7 Bree Street

Cape Town City Centre

Cape Town

8000

South Africa
---
Postal Address
P.O. Box 1456, Cape Town, 8000, South Africa
Opening Hours
Monday

09:00 – 17:00

Tuesday

09:00 – 17:00

Wednesday

09:00 – 17:00

Thursday

09:00 – 17:00

Friday

09:00 – 17:00

Saturday

– CLOSED

Sunday

– CLOSED