Experts in medico-law
Effective representation
Contingency fee applies
In-page navigation
---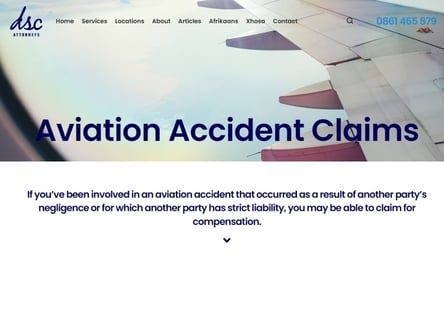 Author DSC Attorneys. Screenshot of DSC Attorneys website.


[Accessed March 31, 2023]
DSC Attorneys - personal injury specialists
De Vries Shield Chiat Attorneys is a Cape Town-based law firm, established in 2004.
The firm specialises in personal injury and product liability claims. DSC Attorneys boasts extensive experience in boating, rail and aviation lawsuits.
Expert medico-legal advice
Although it is young, the firm originally formed from the merger of three prior personal injury law firms: De Vries (Cape Town) Inc., Henry Shields Chiat and Mostert & Bosman.
The firm is driven by the belief that all clients have the right to access the legal services required to come to a justified solution for your boating, aviation or train accident claim. In order to achieve this goal, DSC Attorneys operates on a contingency of 'no win, no fee'.
What this means is that the firm will cover all the expenses of litigation, bringing witnesses to court, access to specialised and experienced advocates and getting expert medico-legal advice.
You can receive maximum compensation
The attorneys at DSC are equipped with the technical, commercial and scientific knowledge as well as good connections with the requisite regulatory bodies to help ensure you receive the maximum compensation in boating, rail and aviation liability claims.
Effective legal representation
All of our attorneys are members of the Cape Law Society and the American Association for Justice and are accredited by the American Board of Independent Medical Examiners.
DSC Attorneys provide their clients with the professional, effective and efficient legal expertise they deserve when they make a personal injury claim or any transport or car accident claim.
DSC Attorneys – Aviation, Boating, & Train Accident Claim
Claim Type

Aviation, Boating, & Train Accident Claims
Benefits of DSC Attorneys
SLIP & Trip
ROAD Accident
AVIATION Accidents
DOG Bites
LIFT
GATE & Door Malfunction
MEDICAL
MALPRACTICE
METRORAIL / Train Accident Claims
POLICE Assaults
PRODUCT Liability
WRONGFUL Arrest
---
DSC Attorneys - We will fight for your rights
The Consumer Protection Act serves to safeguard South African consumers from flaws or defects in your flying or boating goods, whether locally produced or imported.
The Act provides clear channels and solutions for those who have been negatively affected by defective or hazardous merchandise.
The entire supply chain is required by law to ensure that all products are safe for their intended uses. DSC Attorneys is committed to helping you navigate the details of claiming against a manufacturer or commercial entity.
What you can claim for:
past medical expenses
future medical expenses
past and future loss of earnings, and
general damages for pain and suffering
Contact us today for a consultation where we will determine the merits of your aviation or boating accident claim, free of charge.
DSC will also carry the financial burden of the case, only exacting fees in a successful case so that making a claim does not cripple your personal finances. At each stage in the process, your attorneys will keep you updated and advised.
DSC Attorneys Contact
Contact Number
E-Mail
Website
Physical Address
Touchstone House, 7 Bree Street

Cape Town City Centre

Cape Town

South Africa
---
Postal Address
P.O. Box 1456, Cape Town, 8000, South Africa
Opening Hours
Monday

09:00 – 17:00

Tuesday

09:00 – 17:00

Wednesday

09:00 – 17:00

Thursday

09:00 – 17:00

Friday

09:00 – 17:00

Saturday

– CLOSED

Sunday

– CLOSED