Expert legal solutions
Compassionate client care
Dynamic, efficient team
In-page navigation
---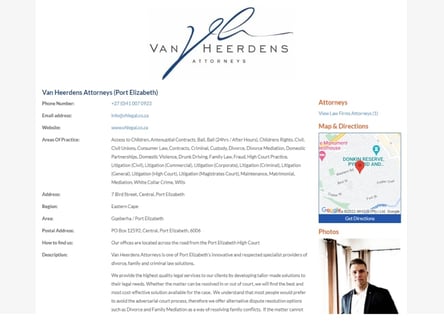 Author Van Heerdens Attorneys. Screenshot of Van Heerdens Attorneys website.


[Accessed March 31, 2023]
Van Heerdens Attorney - Quality legal services
Committed to premium quality client services, Van Heerden's Attorneys provide a full range of legal services, including boating accident claims, rail accident claims and aviation claims.
We can help you claim
No matter the complexity of the legal issue, Van Heerden's will help you reach the right solution for your boating, aviation or train accident claims.
Always testing the boundaries of conventional law practice, Van Heerden's is a dynamic, efficient and professional group that aims to develop long-term relationships with clients.
If you have been injured in a rail, boating, aviation or any other accidents, our specialists will advise you on how to make a claim against the responsible party and make sure you receive appropriate compensation.
Professional legal services
Claiming against an individual for an accident that they caused or had a role in causing, can be tiresome, confusing and emotional.
From the first meeting, Van Heerden's will take over the claims process for you, easing your stress and ensuring that your personal injury claim is correctly lodged and process.
Compassionate client care
We will go about collecting and collating the relevant reports, affidavits and testimonials required to prove negligence.
As the seriousness or extent of a bodily injury is the main factor determining your train, boating or aviation injury compensation, our panel of medical experts will help to provide an official record of your injuries.
Van Heerden's Attorneys will ensure that you are treated with integrity, empathy and professionalism and that you are fairly compensated for damages suffered.
Van Heerdens Attorneys – Aviation, Boating, & Train Accident Claim
Claim Type

Aviation, Boating, & Train Accident Claims
Benefits of Van Heerdens Attorneys
AVIATION, Boating, Train Accident Claims
---
Van Heerdens Attorneys - Fighting for your rights
Initiating and carrying out a claim against a defendant requires legal expertise and knowledge of how to lodge and process aviation, boating or train accident claims successfully.
Van Heerden's Attorneys have the legal background, financial resources and experience you need to navigate the motor vehicle accident claims process, proving negligence and collating reports and statements without emptying your bank account.
Don't let fighting for your rights take over your life, contact Van Heerden's to book a free first consultation where we will determine your case and advise you on how to move forward.
Damages you can claim for:
Past and future medical expenses
Emotional/psychological trauma suffered
Past and future loss of earnings
Bereavement and funeral costs
Van Heerdens Attorneys Contact
Contact Number
E-Mail
Website
Physical Address
Suite 407, Oasim South Building, Pearson Street, Central

South Africa
---
Postal Address
PO Box 12592, Central Port Elizabeth, 6006, South Africa