Premium, quality service
Team of specialists
Passionate and effective
In-page navigation
---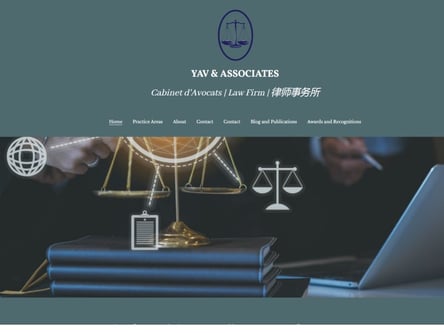 Author Yav & Associates. Screenshot of Yav & Associates website.


[Accessed March 31, 2023]
Yav & Associates - Premium quality services
Yav & Associates consulting and a law firm is a bilingual (English and French)
Our company provides legal and fiduciary services to clients across the African continent, specifically law and commerce pertaining to the Democratic Republic of Congo.
Professional services
Our firm has a passionate culture in personal attention to clients, and professional, specialised and premium quality services in boatin, aviation and train accident claims.
Conveniently located in the CBD of Johannesburg, Sandton, Yav & associates are aptly situated in the largest business hub on the African continent.
Passionate about helping you
The firm is passionate about providing high-quality legal services to clients that are efficient, effective and fair.
Our diverse team of specialists practice with an open-minded ethos of transparency, honesty and professionalism, viewing legal issues as opportunities.
The process for claiming
Claiming compensation for accidental injuries from the responsible party can be an arduous, frustrating and time-consuming process, particularly as you may still be recovering from the incident.
Yav & Associates will take over the responsibility and stress of lodging and processing your train, boating or aviation accident claim, making sure we reach the best possible solution.
Contact us to organise a consultation where we will determine your case and its validity. From there we advise you on the most prudent course of action and help you to execute it.
Yav & Associates – Aviation, Boating, & Train Accident Claim
Claim Type

Aviation, Boating, & Train Accident Claims
Benefits of Yav & Associates
AVIATION, Boating and Train Accident Claims
---
Yav & Associates - You have the right to claim
If you have been involved in a boating-, rail- or aviation –related accident that was not your fault, then you have the right to claim for compensation from the individual that caused the accident.
However, this process is not straightforward and requires the legal expertise of the personal injury lawyers at Yav & Associates.
We will make sure your aviation, train or boating accident claim is processed successfully and advise you toward reaching the desired solution and compensation.
However, please take note that if the individual you are claiming against does not have insurance or sufficient assets, your personal injury claim will probably not be worth pursuing.
Damages you can claim for:
Past and future medical costs
Past and future loss of earnings
Bereavement / funeral costs
Compensation for loss of support for dependents of a deceased breadwinner
Emotional and psychological trauma
Yav & Associates Contact
Contact Number
E-Mail
Website
Physical Address
Sandton

Johannesburg

1825

South Africa