Respected law firm
Honest and dedicated
Innovative solutions
In-page navigation
---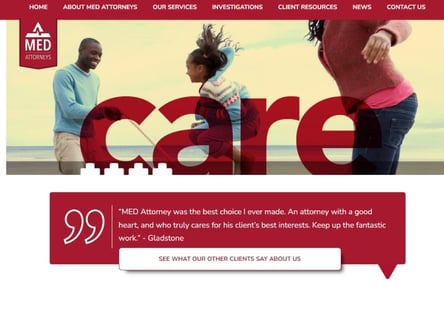 Author Mokoduo Attorneys. Screenshot of Mokoduo Attorneys website.


[Accessed March 31, 2023]
Mokoduo Attorneys - Honest and dedicated
The very nature of being the victim in an accident is that you didn't see it coming.
We cannot prepare for such events, but we can ensure that we are appropriately compensated and supported throughout the recovery process.
Mokoduo Attorneys is one of South Africa's most respected law firms, located in the business hub of Johannesburg.
Straightforward legal solutions
The firm comprises experts specialised in a range of legal disciplines, such as boating, rail and aviation claims.
Mokoduo Attorneys provide their clients with honest, straightforward, dynamic and innovative solutions to legal problems, operating on a profound ethos of integrity, high-quality service delivery and professionalism.
Mokoduo Attorneys will help you through the train, aviation or boating accident claims process, bearing the burden of litigation and reducing the amount of frustration and trauma you experience.
Is your claim valid?
Mokoduo Attorneys have extensive experience in accident injury claims resulting from rail, aviation or rail transport.
If you have been involved in an accident that was not your fault or due to your own negligence, then you will likely be eligible to claim for compensation from the responsible party.
The claims process
Our solicitors will be with you from the beginning to end of the personal injury claims process, making sure your claim is correctly and expediently processed.
We will endeavour to ensure that you receive that maximum possible compensation for the injuries and trauma you have suffered, including loss of earnings and bereavement costs.
Mokoduo Attorneys – Aviation, Boating, & Train Accident Claim
Claim Type

Aviation, Boating, & Train Accident Claims
Benefits of Mokoduo Attorneys
MOTOR Vehicle Accident Claims
ROAD Accident Fund
RAIL
BOATING And Aviation Accidents
SPORTING Injuries Claims
PROFESSIONAL Negligence
OCCUPATIONAL Injuries
MEDICAL Negligence
CLAIMS For Birth Defects
---
Mokoduo Attorneys - working hard for you
In the event that you or a loved one is the victim of an accident and you would like to explore the possibility of making an aviation or train accident injury claim, you should start by consulting us at Mokoduo Attorneys.
During your first consultation, we will assess your claim and its merits, determining the best way to progress from there.
Expert negotiators
The severity of your injuries will be the greatest factor in establishing your train boating or aviation accident compensation. We will take over the difficult and confusing process of proving negligence against the responsible party, such as the gathering of medical and police reports, affidavits and witness testimonials.
Mokoduo Attorneys is committed to fighting for the compensation you deserve, costing you as little time, effort and money as possible.
Mokoduo Attorneys Contact
Contact Number
E-Mail
Website
Physical Address
149 Oxford Rd, Cnr Wantage Rd

Rosebank

Gauteng

2196

South Africa
---
Postal Address
PO Box 1572, Bedfordview, 2008, South Africa