Joseph's Incorporated Attorneys
25+ Years' experience
Efficient with strong ethics
In-house medical consultants
In-page navigation
---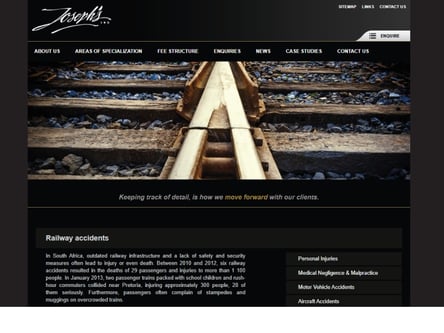 Author Joseph's Incorporated Attorneys. Screenshot of Joseph's Incorporated Attorneys website.


[Accessed March 31, 2023]
Joseph's Incorporated Attorneys - claims against railway services
Joseph's Incorporated Attorneys is a Johannesburg based law firm specialised in personal injury claims against the country's railway services.
The firm has been established for more than 25 years and operates in a strong ethical and time efficient manner.
In-house medical consultants
Joseph's boasts its own in-house medical consultants to expedite the personal injury claims process. Joseph's has been responsible for landmark cases in personal injury law, gaining respect from other members of the medico-legal profession.
The Passenger Rail Agency of South Africa is legally obligated to ensure that trains, railway lines, stations and railway crossings are safe and well maintained. If the agency is negligent or careless and you or a loved one are injured as a direct consequence of interacting with the railway system, you may have grounds for a train accident claim.
The first consultation is free
In order to save the client from wasting time on fruitless claims, Joseph's offers all potential clients a free first consultation.
Joseph's Incorporated Attorneys will offer you the best advice on how to proceed with your train or aviation accident claim.
You can get compensated
It should not cripple you financially to lodge a claim for injuries you acquired due to someone else's negligence.
Joseph's will cover all the financial costs resulting from investigating, proving and making a claim, operating on a 'no win, no pay' basis.
With years of legal experience in railway, boating and aviation liability, we at Joseph's will make sure that you are compensated appropriately.
Joseph's Incorporated Attorneys – Aviation, Boating, & Train Accident Claim
Claim Type

Aviation, Boating, & Train Accident Claims
Benefits of Joseph's Incorporated Attorneys
PERSONAL Injuries
MEDICAL Negligence & Malpractice
MOTOR Vehicle Accidents
AVIATION Accidents Claims
BOATING Accidents Claims
RAIL Accidents Claims
AIRCRAFT Accidents
POLICE Brutality
RAILWAY Accidents
DOG Bite Victims
INJURIES Sustained In Public Places
---
Joseph's Incorporated Attorneys -
To start an aviation or boating accident claim or ask questions about the process contact us at Joseph's for a free first consultation.
If any of the following has happened, you may be eligible to claim for liability:
you have been personally injured in a railway accident
The deceased victim of a railway accident was the breadwinner, on which you were dependent
you fall or are pushed on the station platform
you fall or are pushed out of the train
you fall while getting into or out of the train
What you can claim for:
past and future medical expenses
funeral expenses of the deceased
past and future loss of earnings or income if the victim is disabled as a result of the accident
past and future loss of support for a dependant of the deceased
Compensations for pain, suffering and disfigurement in the case of bodily injury
Joseph's Incorporated Attorneys Contact
Contact Number
E-Mail
Website
Physical Address
9 Bompas Rd

Dunkeld

Johannesburg

2196

South Africa
---
Postal Address
PO Box 1967, Johannesburg, 2132, South Africa