Legal professionals
Achieving top results
Knowledge and skill
In-page navigation
---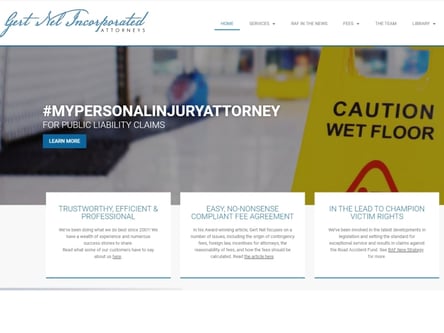 Author Gert Nel Attorneys. Screenshot of Gert Nel Attorneys website.


[Accessed March 31, 2023]
Gert Nel Attorneys - We are committed to achieving top results
Gert Nel Attorneys is a legal firm specialising in personal injury law. We are committed to achieving top results for our clients whether they're making a public liability claim or a medical negligence claim.
We use our legal knowledge, skills and expertise to win the largest possible capital settlement as compensation for what they have been through.
For us, each and every client is truly special and this is reflected in our attitude and in the nature of our work.
Let our dedicated team help you
Our service is based on maintaining the integrity and dignity of the people who come to us long after their legal matters have been settled by our dedicated team. We are focused on five different areas of personal injury law.
These include road accident claims, public liability claims, dog bite claims, medical negligence claims and medical aid and suppliers claims.
Our team consists of two attorneys, three candidate attorneys, four professional assistants and one professional consultant. We work with clients from all walks of life.
We have a strong team of legal professionals
A dog is a man's best friend, but not always. Unfortunately, dog attacks and bites are fairly common and young children are at the highest risk of such accidents.
At Gert Nel Attorneys, we are committed to helping the victims of such accidents to receive rightful dog bite compensation.
We have a strong team of legal professionals who work dedicatedly to achieve the best outcome for each and every client.
We will investigate your claim
We have great experience in working with victims of such accidents and we know how traumatic injuries resulting from dog bites can be.
It is the responsibility of the owners to keep their pets restrained and to prevent them from attacking and hurting people.
If they are negligent or if the dog shows aggression which is not characteristic for its breed, the people incurring injury as a result of the accident can get compensated.
Come to us and we will investigate and help you make a claim and deliver top results.
Gert Nel Attorneys – Dog Bites & Attack Claim
Claim Type

Dog Bites & Attack Claims
Benefits of Gert Nel Attorneys
ROAD Accident Fund Claims
PUBLIC Liability Claims
DOG Bite Claims
MEDICAL Negligence
MEDICO Legal Recoveries
---
Gert Nel Attorneys have dealt with numerous dog bite claims
These personal injury situations are often due to uncontrolled animals and freak accidents.
We do however notice that there is an increased injury to dog owners who are using their beloved pets for security reasons, and the animal becomes vicious, protecting their surroundings, and innocent parties are injured. Dog owners are supposed to take precautionary measures when owning pets that could cause harm to others, and if not, are liable for legal action.
Dog bite claims
We all see dogs as a friendly pet who needs to get attention and love. Human nature draws us to pet the dog and interact. However, sometimes, this doesn't always work out as imagined, and you could be the victim of a horrific dog attack. Small children are innocently unaware of the consequences of loving a pet and are often the majority of these cases.
If you have been attacked or bitten by someone else's dog, and the acting could have been stopped or even prevented, contact our legal experts today. We will help put together a case of personal injury on your behalf.
We can establish if you have a case and can claim compensation for:
Emotional trauma/counselling
Pain and suffering
Surgery and medical bills
There are a number of factors we look at before putting a dog bite claim together. This includes all the evidence, and information you can provide us with, as well as the facts of the situation. Was the dog owner aware of the dog's distemper, was the animal locked up, has the dog caused any harm in the past and much more.
Should you feel you have a case to work on, contact us as soon as possible, and let us go through the incident with you. We will put together an analysis of the events, and inform you if we have a case to work with or not.
Gert Nel Attorneys Contact
Contact Number
E-Mail
Website
Physical Address
1235 Cobham Road

Queenswood

Pretoria

0186

South Africa
---
Postal Address
PO Box 11614, Queenswood, 121, South Africa
Opening Hours
Monday

08:00 – 16:30

Tuesday

08:00 – 16:30

Wednesday

08:00 – 16:30

Thursday

08:00 – 16:30

Friday

08:00 – 16:30

Saturday

– CLOSED

Sunday

– CLOSED