Established in 2004
Superb track record
Affordable and dependable
In-page navigation
---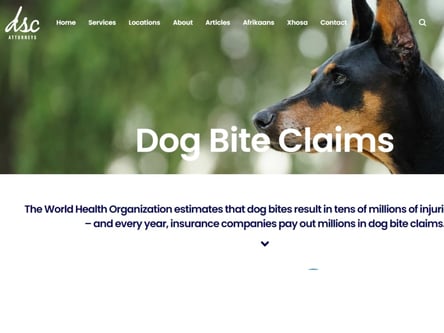 Author DSC Attorneys. Screenshot of DSC Attorneys website.


[Accessed March 31, 2023]
DSC has an excellent reputation
Our law firm, De Vries Shields Chiat Incorporated, was established in May 2004 when three firms specialising in personal injury law as well as public liability claims and operating in Cape Town merged.
We are known as DSC Attorneys and have an excellent reputation in the city and the entire local region.
We have been operating for more than a decade now and we have a superb track record of success.
Legal services on a "no win - no fee" basis
Our legal services are based on comprehensive expertise, complete dedication, long-term experience and honoured tradition.
We are always up to date with the most recent legislature and legal developments.
We have the legal knowledge and resources to advise our clients on all areas of personal injury law. We handle all types of claims from medical malpractice claims to dog bite claims.
We are here to promote every client's right to justice through the provision of legal services on "no win - no fee" basis.
Affordable and dependable legal services
Millions of people suffer from dog bites every year around the globe and South Africa is no exception to this trend.
Many people in our country keep big aggressive dogs for burglary and vandalism protection. As a result, the number of accidents is growing every year.
You have the right to get compensated for your medical expenses
At DSC Attorneys, we offer affordable and dependable legal services to victims who make dog bite claims.
If you have been bitten by a dog, you have the right to apply for compensation for your medical expenses, loss of income resulting from the accident and the pain and suffering which you have experienced.
When you reach us, our first job will be to determine the validity of the claim using our legal expertise.
We will investigate what happened and prepare your case in the best possible way. We will use our resources and know-how to win the compensation which you deserve on your behalf.
DSC Attorneys – Dog Bites & Attack Claim
Claim Type

Dog Bites & Attack Claims
Benefits of DSC Attorneys
SLIP & Trip
ROAD Accident
AVIATION Accidents
DOG Bites
LIFT
GATE & Door Malfunction
MEDICAL
MALPRACTICE
METRORAIL / Train Accident Claims
POLICE Assaults
PRODUCT Liability
WRONGFUL Arrest
---
De Vries Shields Chiat Incorporated can assist you with your dog bite claims
We have assisted thousands of victims of dog attacks in the country, where the attack was at no fault of their own.
The emotional trauma sustained from a dog attack can have long-term effects on a person, especially children, where they were attacked without warning, and the incident could have been avoided. Surgery is often the next step after a dog attack, as the wounds from this kind of trauma can be quite severe.
According to the World Health Organisation, dog bites and dog attacks result in millions of injuries each year. This is one of the most common personal injury claims law firms take on in their careers. We have extensive experience in these kinds of cases, with positive outcomes.
Clients who have been a victim of this kind of injury can claim for:
Hospital/surgery expenses
Emotional trauma/counselling
Potential future hospital visits, follow up surgeries
General pain and suffering
At DSC Attorneys, we pride ourselves on our medico-legal experts who have dealt with these cases on a daily basis. We know how to handle these cases, and how to put a case together on our client's behalf in order to get the dog bite compensation you deserve.
If you were, however, attacked on private property, the dog owner may not be liable for the incident, however, you can still claim for the actions of the dog, should the animal be a certain species of dog that has been trained to attack etc. We will advise the best course of action to take once we have had an initial consult with you.
DSC Attorneys Contact
Contact Number
E-Mail
Website
Physical Address
Touchstone House, 7 Bree Street

Cape Town City Centre

CAPE TOWN

8000

South Africa
---
Postal Address
P.O. Box 1456, CAPETOWN, 8000, South Africa
Opening Hours
Monday

09:00 – 17:00

Tuesday

09:00 – 17:00

Wednesday

09:00 – 17:00

Thursday

09:00 – 17:00

Friday

09:00 – 17:00

Saturday

– CLOSED

Sunday

– CLOSED