Comprehensive skill set
Compassionate
Solid legal reputation
In-page navigation
---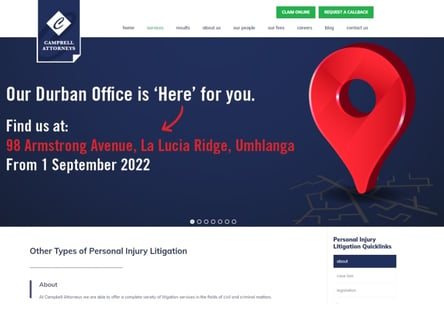 Author Campbell Attorneys. Screenshot of Campbell Attorneys website.


[Accessed March 31, 2023]
Campbell Attorneys - we pursue justice on your behalf
Over the years, the legal practice group of Campbell Attorneys has won many personal injury cases.
We have built a solid reputation thanks to our great success in the field of personal injury law including dog bite claims.
Our service is based on substantial expertise, comprehensive skill set and great experience in all areas of this law field. We assist victims of road accidents, dog bites, fatalities and other serious accidents.
A professional and dedicated team
The core goal of our professional and dedicated team is to pursue justice on behalf of our clients in a passionate and prompt manner.
We are fully committed to protecting their rights and to achieving the settlement which they deserve. Our legal knowledge and experience in litigation are paired with compassion and understanding.
We strive to achieve the best results both in and out of court. We work on a "no win - no fee" basis. You can reach us over the phone or via our website to apply for compensation.
We have extensive and diverse legal experience
We handle a wide range of personal injury claims including dog bite claims and claims for injuries caused by other pets.
At Campbell Attorneys, we have extensive and diverse legal experience and this enables us to deliver the best service to our clients and to achieve the best outcome for them. We handle all claims professionally and with full dedication.
Dog bite claims
Dog bite claims are brought on the grounds of negligence on the side of the owner of the pet or on the grounds of an action which is based on strict liability.
This means that the victim can still receive compensation from the pet owner even if the person has not acted negligently.
This happens in cases when the animal has acted contrary to its nature and class and more specifically in an aggressive manner. Typically, pet owners have pet insurance which is designed to compensate the victims of accidents caused by the pet.
Campbell Attorneys – Dog Bites & Attack Claim
Claim Type

Dog Bites & Attack Claims
Benefits of Campbell Attorneys
HIGH Court and Magistrate Court
MOTION Court Appearances
CIVIL Litigation
MATRIONIALS and family law litigation
MOTOR vehicle accident claims
PERSONAL injury claims
CRIMINAL law cases in the district and regional courts
DEBT collections
---
Campbell Attorneys - We can help you with your dog bite claim
In South Africa a lot of citizens walk instead of using motorized transport this puts them at a greater risk of been bitten by a dog and sustaining an injury. Reports show that there are more and more dog bites sustained every year.
Many of these dog bites require medical attention. It is the job of insurance companies to save money and will try to settle for the lowest amount possible. If you give us a call, we will fight on your behalf to get you the dog bite compensation you're entitled to.
Know your rights
If an insurance company does try to contact, you after the dog bite incident then make sure that you don't sign anything. It is your right to have your lawyer present and you don't need to answer any uncomfortable questions that you don't want to.
Contact us for a free consultation to find out if you have a case and our legal experts will give you professional advice that you can trust.
What to do once you have been bitten
Make sure that you seek medical attention and keep a written record of everything that has happened
Contact your local police department and make sure that you get a case number
You need to find the owner of the dog and get as much information from them as possible including contact details and find out if they have an insurance policy
Contact us so an attorney can represent you and give you the best chance of winning your case
Dog bites injuries compensation can be claimed for the following:
To pay for your medical bills and doctors visits
Future medical visits that may be necessary
In extreme cases, you may need plastic or reconstructive surgery
Physical pain and suffering
Our over 20 years of experience in handling dog bite cases means that we are well equipped to handle your case and get you the compensation that you deserve.
Campbell Attorneys Contact
Contact Number
E-Mail
Website
Physical Address
58 St. Andrews Drive

Durban North

Durban

4051

South Africa
---
Postal Address
PO BOX 30162, Sunny Side, Pretoria, 0132, South Africa
Opening Hours
Monday

08:00 – 16:30

Tuesday

08:00 – 16:30

Wednesday

08:00 – 16:30

Thursday

08:00 – 16:30

Friday

08:00 – 16:30

Saturday

– CLOSED

Sunday

– CLOSED