Seven decades of service
Tradition of excellence
Innovative and adaptable
In-page navigation
---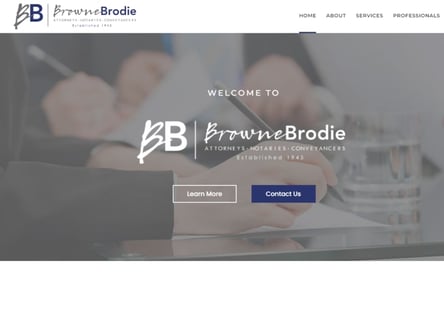 Author Browne Brodie Attorneys. Screenshot of Browne Brodie Attorneys website.


[Accessed March 31, 2023]
Browne Brodie Attorneys - a tradition of excellence
We opened our head office in the Central Business District of Durban in 1945 and it has been our home ever since.
At Browne Brodie Attorneys, we have always followed our tradition of excellence in the provision of legal services to South Africans. Our legal team includes attorneys, notaries and conveyancers.
We build strong partnerships
We work with a large number of associates from the whole of KwaZulu Natal to deliver the best solutions to the private persons and businesses that come to us. For seven decades in the field of law, we have helped thousands of people to achieve their goals.
We have built strong partnerships with clients and with fellow professionals. Over the years, we have managed change successfully and have adapted to the new circumstances.
At the same time, we have always adhered to our fundamental values of dedicated service, complete professionalism and full integrity. This has made us one of the most reputable legal practices in the local area particularly when it comes to personal injury such as dog attack claims.
Our job is to investigate your case
At Browne Brodie Attorneys, we specialise in different areas of law from personal injury law to sports law, property law and divorce and family law.
We have been practising law since 1945 and we have handled numerous personal injury claims including dog bite claims.
Even though canine pet owners are supposed to take measures for preventing accidents which involve attack and biting and which lead to injury, they do not always do it.
You have the right to be compensated
If you have suffered injury as a result of a dog owner's negligence or breach of duty, you have the right to get compensated.
Victims are entitled to a compensation amount which will cover their medical bills and any income lost as a result of the accident and injury.
The injured parties are also compensated for their physical suffering.
Our job is to investigate your case, to build a strong personal injury claim based on it and to negotiate or win compensation for you.
Browne Brodie Attorneys – Dog Bites & Attack Claim
Claim Type

Dog Bites & Attack Claims
Benefits of Browne Brodie Attorneys
PERSONAL Injury Claims
DOG Bite Claims
---
Browne Brodie Attorneys - legal assistance for personal injury claims
Browne Brodie Attorneys have been practising law since 1945, and since then, built a trusted clientele of South Africans, needing legal assistance with personal injury or public liability claims and more.
We have an overwhelming request from clients who have been injured or attacked by dogs throughout the years. This is one very common situation, which often occurs in a situation that could have been prevented, and an innocent person was injured.
These kinds of injuries can result in devastating effects, with injuries and emotional trauma to the victim. If you were involved in such an incident, don't waste any time in getting in contact with our legal team. We will establish whether or not you have a case, and help you fight your case legally.
Who do I claim from?
Who you claim from depends on whether you were bitten by a dog with an owner or a stray. Legally the owner of the animal is held accountable for any injuries or damages it causes. If possible, you should find the dog's owner so you can make a claim directly from that person. In the case that the dog has nobody claiming responsibility for it, you won't be able to claim. Alternatively, you can claim from your own health insurance if you have.
Lodging a fruitful action is not straightforward and requires teasing your account of the accident into provable sections that can be legally verified. It is recommended that you contact Browne Brodie Attorneys to obtain a consultation with one of our attorneys specialised in dog bite claims. By consulting us, you are ensuring your claim will be investigated and carried out efficiently and professionally, without burdening you.
Browne Brodie Attorneys Contact
Contact Number
E-Mail
Website
Physical Address
5 Sinembe Cres, Somerset Park

Somerset Park,

Umhlanga

4319

South Africa
---
Postal Address
PO Box 714 4000, South Africa