Personal attention
Extensive legal knowledge
'No win, no fee'
In-page navigation
---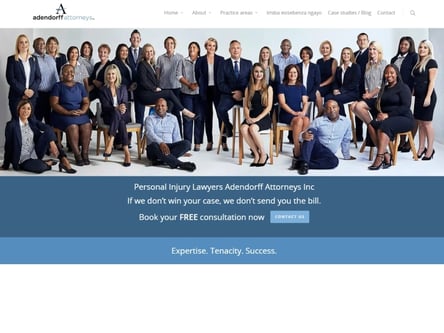 Author Adendorff Attorneys. Screenshot of Adendorff Attorneys website.


[Accessed March 31, 2023]
Adendorff Attorneys -Exceptional quality legal services
What makes the team of Adendorff Attorneys unique is that we combine professional expertise with great personal attention to every client.
We specialise in personal injury claims and motor vehicle accident claims. We have a long track record of success and we are proud of it. Over the years, we have won many cases and built strong relationships with the people who come to us.
We have a wide network of medical professionals
We work with South Africans from all walks of life. We can handle cases involving foreign nationals who have got injured during their stay in the country. We have experience with working with people from countries in Europe and the Pacific and from neighbouring countries as well.
We have highly professional lawyers who deliver service of exceptional quality. We work with a wide network of medical and business professionals. We have a "no win - no fee" service structure. If we do not win your personal injury or dog bite claim, we will not send you the bill.
We have long-term experience in personal injury law
With our long-term experience in personal injury law, we, at Adendorff Attorneys, have helped many people who have been bitten by a dog and suffered injury.
We specialise in dog bite claims and we will use our extensive legal knowledge and diverse legal skills to win the compensation which you deserve for what has happened to you.
We work with renowned medical specialists and investigate each case thoroughly to collect strong evidence and detailed witness testimony.
Dog bite claims
It is true that dogs are animals, but they are also house pets. Their owners are responsible for keeping them secure and for protecting the public from their potentially harmful actions.
If a dog has bitten you, then its owner is liable for what the animal has done and you are eligible for personal injury compensation. You are welcome to come to us so that we can discuss your situation and take the appropriate legal action.
Adendorff Attorneys – Dog Bites & Attack Claim
Claim Type

Dog Bites & Attack Claims
Benefits of Adendorff Attorneys
TRAIN Accidents
MEDICAL Negligence / Birth Injuries
SLIP And Fall Accidents
POLICE Unlawful Arrest / Detention & Assault
PRODUCT Liability / Defective Products
DOG Bites
BURN Injuries
SPINAL Cord Injuries
HEAD And Brain Injuries
---
Dog bite-related injuries are common in South Africa, where strays frequent all urban areas.
If you have been bitten, here's is how to get the process started
Depending on the circumstances, you will claim through different avenues. If you have medical insurance you are normally covered for dog bites (a stray or your own). Those who have home/rental insurance are normally protected if claimed against for their dog biting someone.
Regardless of whether the owner of the dog that bites you does not have insurance, you will claim them directly. As is common in SA, not all dogs have owners. In this case, you won't be able to claim unless you claim from the perspective of public liability. E.g. if you are bitten in a place, such as a shopping centre, the owner of which has a duty of care to public safety on the premises.
How to lodge a successful claim
In order to lodge a successful claim, you will need to show that the person responsible for the dog was in some way negligent giving rise to the dog biting/attacking you. Proving that the responsible party was negligent is not straightforward, and may require some administration and bureaucracy. Consulting one of our experienced attorneys at Adendorff will be to your advantage, as we will take over the responsibility and stress of managing your dog bite claim.
Additionally, you will have to show whether you were complicit or negligent towards the situation, e.g. did your behaviour or state leading up to the incident contribute to or cause it? The relative degree of your responsibility in preventing your own accident will affect how much you are compensated by, or if your claim is successful.
The value of your claim is not just influenced by provable negligence, but also, the skill of the lawyer you employ, the severity of your injuries, the laws of the state in which the accident occurred, the wealth and/or insurance of the defendant.
What am I entitled to claim?
If you have been attacked or bitten by a dog you can claim compensation for past and future medical costs, loss of earnings, loss of support (in case of death), and material damages.
To save you money and time, Adendorff Attorneys Inc. offers a free first consultation to discuss the validity and or the strength of your case how to move forward. But before you go see a lawyer, you may want to gather some information to help illustrate the circumstances of your accident.
Photographs of your injuries and the dog
A description of the events that led up to the dog bite
A medical report detailing your injuries resulting from the accident, how they were treated and how they will continue to be treated (unless healed).
Financial records of medical bills and/or loss of income
Adendorff Attorneys Contact
Contact Number
E-Mail
Website
Physical Address
2nd Floor Tyger Valley Chambers Three, 27 Willie van Schoor Drive (Durban Road)

Belville

Cape Town

7536

South Africa