Efficient legal help
Commitment to service
Appropriate compensation
In-page navigation
---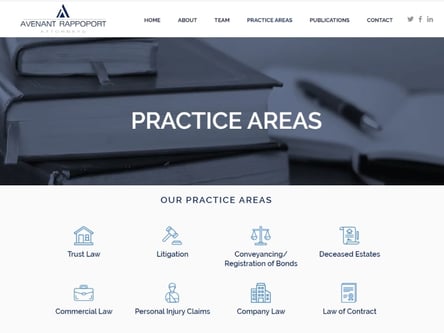 Author Avenant Rappoport. Screenshot of Avenant Rappoport website.


[Accessed March 31, 2023]
Avenant Rappoport Attorneys - You can get legal help fast
The history of our legal firm began in 1995 when Paul Avenant started his practice. Initially, our founder worked in Durbanville and then transferred to Bellville where the firm operates today.
Avenant Rappoport Attorneys has been on the same premises since 2001. At present, our team includes the director Paul Avenant, the incorporated assistant Samantha Bossinger and the consultants Louis Van Schalkwyk and Gerrie Swart.
Our four areas of practice
We have four areas of practice. We specialise in personal injury claims, family law, sports law, deceased estates, property law and commercial law. We are committed to service excellence based on integrity, expertise and dedication.
We treat the interests of our clients as paramount while serving justice and observing the law. We do our work in a competent and timely manner always. We work with private clients from all backgrounds and can assist with everything from dog bite claims to medical malpractice cases. We have a range of commercial and international clients as well. We work in the field of bond registration for the largest banks in South Africa.
We will use our negotiation skills to achieve a successful outcome
Our specialisation in personal injury law has made us the preferred experts for dog bite claims.
We, at Avenant Rappoport Attorneys, provide legal services to victims of such accidents and use our knowledge and skills to win the appropriate compensation for them.
We are effective and professional
If you or a member of your family has been bitten by a dog, we can help you out in an effective and professional manner.
In such cases, victims that have incurred injury can get compensated for the medical expenses which they have paid, for any loss of income resulting from their inability to work and for the pain and suffering resulting from the injury.
Our legal firm has experienced attorneys and consultants. When you come to us, you will receive honest and sound advice. We will investigate the merits of your assault, personal injury or loss of support claim. We will assess the damages which you have incurred and prepare your case. We will use our negotiation skills and litigation expertise to achieve a successful outcome.
Avenant Rappoport – Dog Bites & Attack Claim
Claim Type

Dog Bites & Attack Claims
Benefits of Avenant Rappoport
DOG Bite Claims
PERSONAL Injury Claims
---
Avenant Rappoport Attorneys - We ensure positive results for our clients
Avenant Rappoport Attorneys have dealt with many personal injury claims, and dog bite claims are one of the most common injuries we assess. This kind of injury can happen in your neighbourhood, out in the park or even at a friend's home. This is one of those unpredictable situations, which also can be prevented.
If you have been attacked or bitten by a dog and need to claim for compensation from the owner, Avenant Rappoport Attorneys will help you lodge a successful action.
Who do I claim from?
Who you claim from is contingent on whether you were bitten by a stray or a dog with an owner. Legally the dog's owner is liable for any damages it causes.
If you can locate and contact the dog's owner, you can claim directly from that person. However, in the case that the dog has nobody that is responsible for it, you won't be able to claim from them. You can make a claim from your own health insurance if you have.
Claiming successfully from the animal's owner requires that you prove negligence on the part of its owner, showing that the incident could have been prevented if the dog had been managed properly.
This may require witness testimonies or compliance of the owner. You will also need to show that your behaviour at the time of the accident did not incite or exacerbate the dog's aggression or the extent of your resulting injuries. If your actions did worsen the results of the incident, finding you negligent, your compensation will be duly reduced.
The value of your claim is not just influenced by provable negligence, but also, the skill of the lawyer you employ, the severity of your injuries and the wealth and/or insurance of the defendant. Avenant Rappoport Attorneys are legal experts experienced in dog bite cases.
Why not contact us for a free consultation to discuss and make a claim? In the event your claim can be proved successfully, we will orchestrate the litigation on your behalf, ensuring your claim achieves the desired results.
Avenant Rappoport Contact
Contact Number
E-Mail
Website
Physical Address
21 Pasita St, Tygervalley

Bellville

Cape Town

7530

South Africa
Opening Hours
Monday

08:00 – 16:45

Tuesday

08:00 – 16:45

Wednesday

08:00 – 16:45

Thursday

08:00 – 16:45

Friday

08:00 – 16:00

Saturday

– CLOSED

Sunday

– CLOSED