Joseph's Incorporated Attorneys
Over 25 years' experience
Legal team of choice
Investigate and prosecute
In-page navigation
---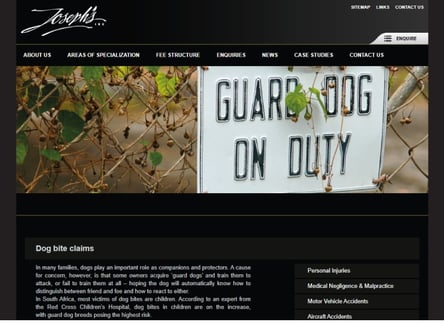 Author Joseph's Incorporated Attorneys. Screenshot of Joseph's Incorporated Attorneys website.


[Accessed March 31, 2023]
Joseph's Incorporated Attorneys - We have specialised lawyers
With over 25 years of experience, Joseph's Incorporated Attorneys is the legal team of choice in the field of personal injury claims.
Over the years, we have handled various complex cases in a professional, efficient and time-efficient manner. We have been responsible for landmark decisions. We are proud of our achievements and of the teamwork which we do every day.
We will achieve success
We have specialised lawyers and in-house medical consultants. This enables us to investigate and prosecute cases of all kinds with great success.
Our service is based on expertise and on strong ethical culture. We believe that all people deserve equal access to justice and we provide this access.
If you or a loved one is a victim of an accident, you can turn to us with complete confidence in our skills and ability to achieve rightful personal injury or dog bite compensation. You are welcome to contact us for a free consultation.
Contact us for a free consultation
Data provided by the Red Cross Children's Hospital reveals that more and more children in South Africa are victims of dog bite accidents.
Adults are not fully protected either when a dog causes an injury or harm, the victim can make a dog bite claim against the animal's owner.
We claim compensation on your behalf
At Joseph's Incorporated Attorneys, we are experts in these types of claims.
We use our legal expertise to help accident victims get compensated for the medical bills which they have paid, for any loss of income and for their suffering.
Claims of this nature can be brought on two grounds and namely in case of negligence on behalf of the owner and in case the animal acted in a vicious way which does not correspond to the nature of its breed.
You can contact us for a free consultation. We will meet with you, investigate your case and claim compensation on your behalf if there are grounds for doing so.
Joseph's Incorporated Attorneys – Dog Bites & Attack Claim
Claim Type

Dog Bites & Attack Claims
Benefits of Joseph's Incorporated Attorneys
PERSONAL Injuries
MEDICAL Negligence & Malpractice
MOTOR Vehicle Accidents
AIRCRAFT Accidents
POLICE Brutality
ROAD Accidents
DOG Bite Victims
INJURIES Sustained In Public Places
---
Joseph's Incorporated Attorneys - We specialise in all law areas
Joseph's Incorporated Attorneys have a considerable amount of years backing up our service delivery in the legal system. We specialise in all law areas, as well as personal injury cases, that include dog bite claims.
We all love our pets, and our dogs are our companions throughout the years. It's human nature to pet and love a dog when we are amongst them, and often unaware of the traumatic and devastating injuries these animals can cause if they have been trained to do so.
In today's world, many dog owners are training their dogs for security purposes. They are used to guard their businesses, homes, farms and properties. If the owner has not taken precautionary measures to ensure their dog doesn't harm innocent people, they will be held liable for compensation to any injured party.
Know the facts regarding dog bite claims
Dog attacks and bites can happen anywhere. In public and private areas. The area where you are attacked will play a big part in your case. If the incident happens on private property, you will need to prove why you were there, and if the dog owner took precautionary measures to avoid the incident.
If the attack happened in a public area, the case is a lot easier, as dogs should be either on a leash, or the owner should warn the person in advance not to engage with the animal. Other factors also come into play, such as if the dog was provoked or teased. We can also assist with a wide array of public liability claims in the case of, for example slip and fall injuries.
Contact us
If you were involved in such an incident, contact our firm straight away. We will go through the entire scenario, evaluate all the evidence and information, and let you know whether or not you have a case.
The compensation you receive from your case can cover your medical bills, pain and suffering and any long-term or follow up treatments you may need.
We have an outstanding winning record on our dog bite and personal injury cases. We understand the law when it comes to this kind of case. Let the experts advise and assist you in your injury case.
Contact us on 011 325 2886 and let us help you with your dog bite claim.
Joseph's Incorporated Attorneys Contact
Contact Number
E-Mail
Website
Physical Address
9 Bompas Road

Dunkeld

Johannesburg

2196

South Africa
---
Postal Address
PO Box 1967, Saxonwold, 2132, Johannesburg, 2132, South Africa