Michael de Broglio Attorneys
Confident and successful
Flexible and efficient
Rightful compensation
In-page navigation
---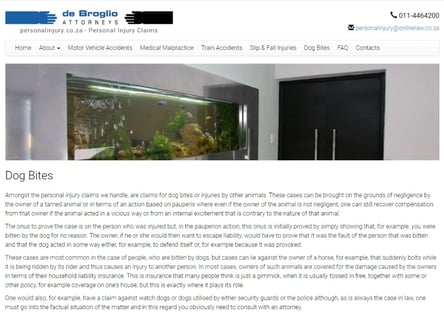 Author Michael de Broglio Attorneys. Screenshot of Michael de Broglio Attorneys website.


[Accessed March 31, 2023]
Michael de Broglio Attorneys - We are confident about achieving success
The dedicated and experienced team of Michael de Broglio Attorneys specialises in three distinct areas of law.
We handle and litigate personal injury claims, road accident claims and medical malpractice and negligence claims. We work on cases of varying complexity. Our client base consists of people from different backgrounds.
Flexible and efficient legal methods
Our service is based on expertise, excellent knowledge of the South African laws and their latest changes and great personal attention to each and every client.
Our job is to give you access to justice and we do it effectively. When you come for a consultation with us, we will discuss your case and investigate it.
If a dog bite claim can be made and defended, we will do it on your behalf using flexible and efficient legal methods. We will work in your best interest to achieve the desired outcome. We are confident about achieving success and we pass this confidence onto our clients.
We help accident victims get rightfully compensated
Dog bite accidents are fairly common in South Africa due to the growing trend of pet ownership and the use of canines for providing a higher level of security.
At Michael de Broglio Attorneys, we specialise in dog bite claims. We help accident victims get rightfully compensated for what they have gone through.
We will investigate your claim
Claims can be based on negligence on the part of the pet owner or on vicious actions of the animal which were unprovoked and which are not natural for its breed.
We will investigate your claim to determine whether you have legal grounds for making a claim.
Once this is confirmed, we will go on and take the necessary legal action for achieving settlement and compensation for you.
We have experience with making claims against private pet owners and against organisations which use guard dogs. We will use our expertise and skills and modern methods for achieving the expected result.
Michael de Broglio Attorneys – Dog Bites & Attack Claim
Claim Type

Dog Bites & Attack Claims
Benefits of Michael de Broglio Attorneys
MOTOR Accidents
ROAD Accident Fund
DOG Bite Claims
MEDICAL Negligence
DIVORCE
---
Michael de Broglio Attorneys - Let us help you with your dog bite claim
Michael de Broglio Attorneys handle a number of legal cases, with personal injury claims being one of the most popular amongst our South African clients.
In today's world of crime, we see a lot of people training their animals, dogs, as security, to protect their homes and land. It is just very unfortunate that often, these animals become the culprit to attacks on innocent victims when the incidents could have been prevented.
Facts you need to know before claiming for a dog bite
Among the individual damage claims we handle, are claims for dog bites. These cases can be expedited the grounds of carelessness by the owner of the dog or as far as an activity in view of pauperism where regardless of whether the owner of the creature isn't careless, one can prove the dog acted violently against the innocent person.
The onus to demonstrate the case is on the individual who was harmed in the pauperism situation, this onus is at first demonstrated by basically proving that, for instance, you were attacked for reasons unknown.
The dog owner would need to demonstrate that it was the blame of the individual that was bitten and that the dog acted I this manner to protect itself or, for instance since it was teased or provoked.
Dog bite claims
These cases are often based on account of individuals, who are traumatically attacked by dogs, however, evidence can lie against the owner of the animal if the incident could have been stopped or prevented.
In many of these cases, the dogs are trained to be vicious, for protection purposes. To protect and guard, private building, shops, factories, and even homes.
One would, likewise, for instance, have a case against guard dogs or dogs used by either security guards or police in spite of the fact that, as is dependably the case in law, one must go into the actual circumstances of the issue and in such manner, you clearly need to counsel with a lawyer.
In the event that you have any inquiries in such a manner and would like assistance from our legal experts, please contact us as soon as possible at personalinjury@onlinelaw.co.za.
Michael de Broglio Attorneys Contact
Contact Number
E-Mail
Website
Physical Address
127 Jan Smuts Avenue

Parkwood

Johannesburg

South Africa
---
Postal Address
P.O. Box 2013, Parklands, 2121, South Africa
Opening Hours
Monday

08:30 – 17:00

Tuesday

08:30 – 17:00

Wednesday

08:30 – 17:00

Thursday

08:30 – 17:00

Friday

08:30 – 17:00

Saturday

– CLOSED

Sunday

– CLOSED