20 Years' experience
Leading experts
Personal injury claims
In-page navigation
---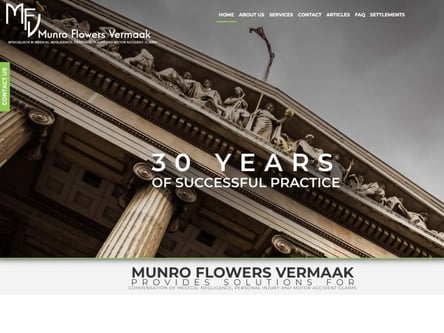 Author Munro Flowers & Vermaak. Screenshot of Munro Flowers & Vermaak website.


[Accessed March 31, 2023]
Munro Flowers & Vermaak - leading experts in personal injury
For more than 20 years, the dedicated team of Munro Flowers & Vermaak attorneys has been helping South Africans to get compensated for bodily injury and other types of damage.
Our legal firm specialises in personal injury claims, medical negligence claims and accident claims. We work on various types of cases from dog bite claims to assaults.
Effective legal solutions
Our team includes experienced lawyers and medical specialists who work together to defend the interests of clients in a highly effective manner.
The partners in the firm, Stephen Flowers and Caren Vermaak, are among the leading experts in personal injury and medical negligence claims in the country. They have been lecturers at the invitation of The Law Society of South Africa for more than ten years.
We are proud of our achievements as a team. We have set various precedents in the field of personal injury law. We have won individual compensation amounts of over R10 million for clients.
Complete legal advice and assistance
The attorneys of Munro Flowers & Vermaak have vast experience with dog bite claims. Accidents involving dog attack and biting typically lead to injury, stress and anxiety.
Children are particularly vulnerable to such accidents. They can occur in public places and in the homes of friends and neighbours.
The victims of such accidents can claim dog bite compensation for the medical expenses, lost earnings and suffering which they have incurred and which they may incur in the future.
Dedicated and hard-working specialists
When you come to us, we will first investigate your case to check whether there are grounds for making a claim. If there are such grounds, we will handle and litigate the case on your behalf.
Our team consists of dedicated and hard-working specialists who will use the most effective strategy for winning your case.
You can expect complete legal advice and assistance with everything which you need. We will use all of our resources for achieving compensation for you.
Munro Flowers & Vermaak – Dog Bites & Attack Claim
Claim Type

Dog Bites & Attack Claims
Benefits of Munro Flowers & Vermaak
3RD Party Claims
ENVIRONMENTAL Law
MEDICAL Negligence
DOG Bite Claims
MVA Claims
PERSONAL Injury
---
Munro Flowers and Vermaak - We fight for justice
We have over two decades of experience in dealing with all personal injury cases, and dog bite claims to be one of our most frequent cases above all.
We know how to put together a winning case for victims of dog attack cases, and with our experience in the legal industry, you know you can count on us for the right advice and counsel. Dog bites and attacks are happening around this country on a more frequent basis.
You can have a case in your corner
Dog owners are training their animals to be aggressive to protect their homes, farms and buildings, in a society where we are burdened with a crime. This, however, is no excuse for an innocent person to be attacked by a dog when they were at no fault.
If you have not provoked or tormented the animal and were attacked off guard, you can have a case in your corner. Clients are able to claim for compensation to cover medical bills, treatment, surgery, counselling for emotional trauma and much more.
This kind of brutal attack can leave a client emotionally traumatised, especially younger children. Because we work on a no win no fee basis, clients can set up a consultation with us to evaluate their situation, and we will determine whether or not we feel you have a suitable case to take further.
For a better outcome of your case, we advise you to be in contact with us as soon as possible after the incident. We encourage you to provide us with as much information and detail (names, dates, photos, medical reports) as possible, as this will all be evidence that works in your favour.
We will go through the entire scenario of the events in question, and openly discuss the process of personal injury claims going forward. You can rest assured that your best interests will be our priority through the entire process. We put our clients first and keep an open communication with you at all times. Our people are passionate about justice, and getting the compensation for our clients that they fully deserve after such a traumatic event in their lives.
Munro Flowers & Vermaak Contact
Contact Number
E-Mail
Website
Physical Address
3rd Floor, The Mall Offices11 Cradock Ave, Rosebank

Johannesburg

Gauteng

2196

South Africa
---
Postal Address
P O Box 2426, Saxonwold, 2132, South Africa