Ronald Bobroff & Partners
Well established
Devising winning strategies
Up-to-date
In-page navigation
---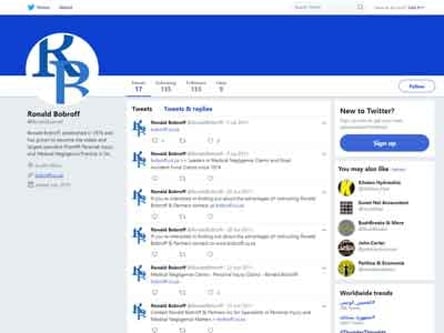 Author Ronald Bobroff & Partners. Screenshot of Ronald Bobroff & Partners website.


[Accessed April 5, 2023]
Ronald Bobroff & Partners Inc - We are the leaders in personal injury claims
Ever since its establishment in 1974, Ronald Bobroff & Partners Inc has been one of the leading law firms in the field of medical negligence and personal injury claims.
For 40 years, we have helped many victims of accidents to get justice and to obtain compensation for what has happened to them. We work professionally and with full commitment to serving the interests of our clients in the most effective way.
We are highly flexible
We have built a strong team of attorneys and specialists in other fields including the medical field.
We always stay up to date with the latest amendments and novelties in the South African legislation.
We have experience and expertise which enable us to be highly flexible when devising winning strategies for our clients whether it's a dog bite claim or a medical negligence claim.
Our achievements speak for our legal service. We have won many complex cases from medical negligence to public liability claims - we are the firm you want on your side.
We have achieved large compensation amounts for accident victims. We are here to help people.
We can handle and litigate your dog bite claim
Dog bites cause serious injuries and may lead to infections. In South Africa, most attacks occur on residential and agricultural premises where the animals are kept as guard dogs.
Children and seniors are particularly vulnerable to such attacks.
If you or a member of your family is a victim of such an attack, we, at Ronald Bobroff & Partners Inc, can handle and litigate your dog bite claim.
Compensation for medical expenses
Victims are entitled to receiving compensation for medical expenses, lost earnings and suffering.
The owner is liable for the actions of the dog even if the accident has not occurred due to negligence on their side provided that the animal has acted in a vicious way contrary to its nature.
When you turn to us, we will first investigate the accident to confirm that you have a valid case.
We will work with you to produce evidence and witness testimony to support your case. We can also assist with loss of support claims and head or brain injury claims.
Ronald Bobroff & Partners – Dog Bites & Attack Claim
Claim Type

Dog Bites & Attack Claims
Benefits of Ronald Bobroff & Partners
MEDICAL Negligence
ROAD Accident Fund
MOTOR Vehicle Accidents
MOTORCYCLE Accidents
LOSS Of Support Claims
SLIP And Fall Claims
DOG Bite Claims
PUBLIC Liability Claims
PRODUCT Liability Claims
BOATING & Rail Accidents
PERSONAL Injury
DIVORCE & Family Law Matters
---
Let Bobroff's expert and proficient lawyers handle your case
At Ronald Bobroff & Partners Inc. we have dealt with thousands of dog bite claims throughout South Africa. These cases can often be the result of a dog attack on an innocent person, in a public area or even at a friend's home.
Dog bite claims
The most critical component of a dog attack and bite claims is to build a case on the facts that the incident could have been prevented. Another factor is to prove that the animal wasn't provoked or led to the attack. We find that in most cases the dog bite cases in South Africa have increased due to security purposes.
Dog owners train their dogs to be aggressive to protect their homes, farms and businesses. This, however, can affect innocent people should the dog be in the same area as the general public and attacks an innocent person.
In these cases, the dog owner will be liable for the injuries and pain and suffering endured to the innocent person.
If you have been attacked by a dog, in a public or private area, where you were perfectly innocent in the matter, contact our firm today. We will put together all the information you provide us with, to determine whether you have a case or not.
What can you claim for:
Hospital & medical expenses
Potential future medical assistance and follow up surgery
Pain & suffering – emotional trauma
We have witnessed a severe dog attack and dog bite cases, where clients have had to endure multiple surgeries and ongoing trauma counselling. This kind of injury can have a long-term effect on the injured party.
In the event that you have been attacked by a dog, you qualify to claim compensation from the dog's owner. There are however various vital things to consider before you put together your claim, and you ought to have your details and situation assessed by a legal firm, to provide you with the best possible legal advice and assistance in making your claim viable.
Let Bobroff's expert and proficient lawyers handle your case.
Ronald Bobroff & Partners Contact
Contact Number
E-Mail
Website
Physical Address
37 Ashford Road

Parkwood

Johannesburg

2193

South Africa
---
Postal Address
P O Box 1170Parklands, Johannesburg, 2121, South Africa