Full legal assistance
Efficient and effective
'No win, no fee'
In-page navigation
---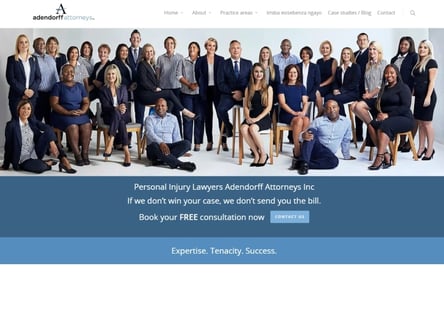 Author Adendorff Attorneys. Screenshot of Adendorff Attorneys website.


[Accessed March 31, 2023]
Adendorff Attorneys - Quality legal services
Our team consists of hard-working and highly successful Attorneys. At the same time, we, at Adendorff Attorneys are easily approachable and we aim to help victims with head injury claims.
We have many years of experience and we specialise in a range of claims including in personal injury claims and road accident claims. We assist South Africans and foreign nationals who get injured in accidents throughout South Africa.
A professional & friendly team
We combine complete professionalism with a friendly attitude to build long-lasting relationships with our clients in addition to helping them with effective legal solutions. We constantly receive referrals from our clients who choose to use our legal services for our quality and for the dedication which we provide them with.
We are driven by excellence
Our lawyers work in cooperation with medical and business experts on the assessment and preparation of your case. We make the success of each case our personal mission, we will help you receive your personal injury compensation quickly.
We provide representation based on efficiency and effectiveness. We are always driven by excellence and we will put you first. We provide our legal services on "no win, no fee" basis to ensure that all of our clients receive direct access to justice without worrying about expensive legal representation.
With us, you will get full legal assistance
When you have an accident and a head injury is sustained as a result of another party's negligence, the victim or their family can rightfully claim for compensation.
At Adendorff Attorneys, we specialise in head injury claims and over the years we have built up a high success rate. We provide full legal assistance to the victims of accidents and their families.
You will get maximum compensation
We will begin our work with the investigation of the case in order to confirm if a valid head or brain injury claim can be initiated. We will then prepare the required evidence and other materials and institute the claim, by using our law and medical experts we will build a strong case on your behalf.
Let expert negotiators help you
With years of experience, we have become experts in negotiation and we are highly successful in achieving settlements with large awards for our clients.
In cases where a settlement can not be reached, we will proceed with litigation. We will represent you in court and use our expert knowledge and skills to win the highest possible compensation for you.
The head injury compensation is usually used for medical expenses, lost earnings and the pain and suffering of the victim.
Adendorff Attorneys – Head Injury Claim
Claim Type

Head Injury Claims
Benefits of Adendorff Attorneys
PERSONAL Injury Claims
TRAIN Accidents
MEDICAL Negligence
BIRTH Injuries
HEAD Injury Claims
SLIP And Fall Accidents
POLICE Unlawful Arrest / Detention & Assault
PRODUCT Liability / Defective Products
DOG Bites
BURN Injuries
SPINAL Cord Injuries
HEAD And Brain Injuries
---
Adendorff Attorneys Inc - Let our expert team handle your claims
Head Injuries are a very common injury, sustained from a number of events. Head injuries are one of the most serious of injuries that can affect your way of life short term as well as long-term.
The long-term consequences of a head injury can have catastrophic effects on your life. You may need serious treatments, surgery and medical monitoring. These are costly and should the head injury be caused by a third party, and not your fault, you should be entitled to make a head injury claim.
Contact us
Clients who feel they have a case to work with can contact us to discuss your situation. We understand that this kind of injury can be time sensitive. The sooner you contact us after the injury, the quicker we can start processing and examine the case at hand. Clients can contact us via telephone to set up an appointment with one of our experienced TBI head injury claim attorneys.
We will take all the factors of the injury into account, as well as medical reports and incident reports if any. Your appointed attorney will take all the information provided and build it into a case.
The case will be based on a head injury caused by a third party, or an accident that wasn't the recipient's fault. If the person who was injured is suffering from ongoing side effects such as headaches, loss of speech or hearing, memory loss, drastic personality or behavioural changes
Brain damage caused by injury needs medical evaluation and documentation to build a strong case. We understand the traumatic effects of such an injury and know that they can often be severe. This is not an injury that should be handled lightly.
We will ensure that if you have a potential case, which can provide compensation or further action to the parties involved, we will make this happen. If you'd like to make a slip and fall claim or any personal injury claim contact us to assist you.
We have vast experience in dealing with these kinds of injury cases and know that you don't have time on your side when it comes to the emotional and financial aspect of these kinds of situations. We encourage you to get in contact with us as soon as possible, to take your matter further.
Adendorff Attorneys Contact
Contact Number
E-Mail
Website
Physical Address
2nd Floor Tyger Valley Chambers Three, 27 Willie van Schoor Drive (Durban Road)

Belville

Cape Town

7536

South Africa
---
Postal Address
PO Box 4034Tyger Valley, Pretoria, 7536, South Africa