Superior representation
Extensive knowledge
Free consultation
In-page navigation
---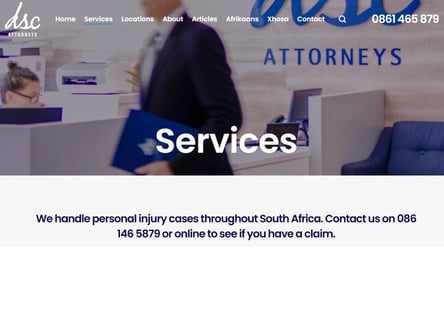 Author DSC Attorneys. Screenshot of DSC Attorneys website.


[Accessed March 31, 2023]
DSC Attorneys - Superior legal representation
DSC Attorneys was formed in May 2004 when three separate firms merged. Our Cape Town-based firms have extensive experience in Personal Injury Law, and the specialised practice has a reputation for successful personal injury claims.
The firm's directors are Cliff Timms (B. Proc) and Kirstie Haslam (B.A., LL.B). Cliff Timms has been an attorney since 1999 and has experience and extensive knowledge litigating in the high court. Kirstie Haslam completed her articles at Mostert and Bosman and became an attorney in 1999 when she joined Cliff Timms.
If we don't win, you don't pay us
We understand the emotional and financial implications of injuries.
We work on a no win no pay basis, ensuring that you get the right firm and the right people to help you get through this difficult time.
By contacting us as soon as possible after such an injury, we can start with the personal or head injury claim and ensure you the claim is taken care of.
We provide comprehensive legal assistance
We were established in 2004, and since then DSC Attorneys has been providing legal assistance to the victims of accidents throughout South Africa. We have long-term experience and superior knowledge in head injury claims.
We handle cases involving injuries from skull fractures to brain haemorrhage and different types of personal injury claims from slip and fall claims to vehicle collisions. We treat each and every case with respect and provide complete care and legal assistance to every client. When you come to us, we will ensure that you feel as comfortable as possible and give you confidence in defending your legal rights.
We will validate your claim fast
We provide a free initial consultation. You will get a free consultation. Our job is to assess if your head or brain injury claim is valid. If the claim is valid, we will prepare a strong case on your behalf and back it up fully before lodging it. We are skilled in using both negotiation and litigation strategies depending on the case and its complexity. We are always focused on reaching a claim amount for you quickly.
DSC Attorneys – Head Injury Claim
Claim Type

Head Injury Claims
Benefits of DSC Attorneys
HEAD Injury Claims
SLIP & Trip
PRODUCT Liability Claims
PERSONAL Injury Claims
ROAD Accident
AVIATION Accidents
DOG Bites
GATE & Door Malfunction
MALPRACTICE
METRORAIL / Train Accident Claims
POLICE Assaults
PRODUCT Liability
WRONGFUL Arrest
---
DSC Attorneys - We settle claims fast
DSC Attorneys wastes no time when it comes to fighting your case. We assist clients who have had a head injury that wasn't their fault. Clients can contact us to assess your situation and your injury, in order to compile a case that will compensate you for the trauma, pain and long-term effects your injury has caused you.
A head injury can have a devastating long term or short term effect on a person. Realistically, you could end up with brain damage, severe bleeding, lack of eyesight and much worse. We have dealt with numerous head injury cases, and know just how to address the legal side of these cases.
Let a highly experienced legal team help you
We have a legal team on board our firm, who are highly experienced in helping clients with this kind of injury. With us, you know you are in capable hands. We will take all the information you provide us with, in line with your story, and take the matter under investigation. If we feel you have a case, we will take the matter further, and work on suitable head injury compensation for your needs.
Give us as much information as possible
The more information you can provide us with, the easier it will be to apply for compensation. Photographs, doctor notes, medical examination documentation and more can be a positive factor and a benefit in winning your case.
Being injured is nothing to smile about, especially when the injury is caused by someone else. A head injury can have a number of consequences and can leave you in a position where you could be unable to carry on with normal life.
When it affects your working ability and normal living ability, you need to take this matter a step further. The level of compensation you could receive will be determined by all these factors and more.
Contact us on 086 146 5879 and let us start with your legal case today.
DSC Attorneys Contact
Contact Number
E-Mail
Website
Physical Address
Touchstone House, 7 Bree Street

Cape Town City Centre

Cape Town

8000

South Africa
---
Postal Address
P.O. Box 1456, CAPETOWN, 8000, South Africa
Opening Hours
Monday

09:00 – 17:00

Tuesday

09:00 – 17:00

Wednesday

09:00 – 17:00

Thursday

09:00 – 17:00

Friday

09:00 – 17:00

Saturday

– CLOSED

Sunday

– CLOSED