Best legal advice
Innovative approach
Positive results
In-page navigation
---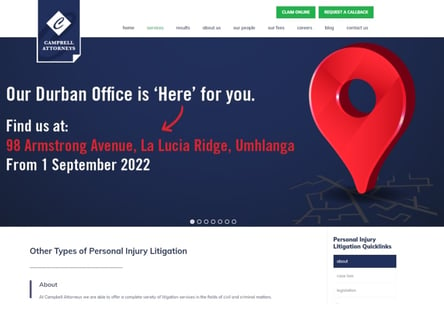 Author Campbell Attorneys. Screenshot of Campbell Attorneys website.


[Accessed March 31, 2023]
Campbell Attorneys - Unparalleled legal solutions
At Campbell Attorneys, finding effective legal solutions for our clients is what we do best.
Our company consists of an energetic team that focusses on providing you with the best legal advice and personal attention to your head injury claim. Over the years we have won many high-end cases and we will handle your case with the same hard-working nature.
Our services are available to all South Africans
We provide services to South Africans, we specialise in civil litigation, medical malpractice claims, family law, corporate and commercial law and criminal law and more. We operate in three main departments - personal injury claims, medical malpractice claims and private security.
An innovative approach to getting positive results
We provide quality legal services based on our long-term experience and professional expertise and testimonials. We have the knowledge and expert skills to handle cases of varying complexity. We always use our resources to provide the most effective solution and claim payouts in the shortest possible time.
You will get dedicated personal attention
We are fully committed to serving the interests of our clients and we will explain all the procedures to you. We provide personal attention and regular transparent reports on your case.
We are open-minded and use innovative approaches to achieve even better results in our work. We strive to exceed the highest professional standards in our field that makes us stand out from other law firms in South Africa.
We have a expert team of lawyers
Many clients who have a head injury due to negligence from another party needs extensive medical treatment and they often get temporarily or permanently disabled from the injury.
If you believe that another party is responsible for a head injury sustained by you or a family member then we can help you build a case in order to receive compensation for medical expenses and loss of income.
An expert team of lawyers on your side
We have a team of expert lawyers and medical experts who have years of experience in working on such cases.
We work with reputable professionals in the field of medicine and finance to ensure the best expert testimonials.
We pride ourself on our long record of success with a range of head injury claims.
Is your claim valid?
In order for a head or brain injury claim to be paid out, the fault of the person or circumstance responsible for the accident and the injury suffered by the client have to be proven.
We will collect the necessary evidence and documentation and build up the case.
We will build a case, lodge the claim and focus on negotiations.
If a fair settlement is not achieved, we will move on to litigating the claim.
Campbell Attorneys – Head Injury Claim
Claim Type

Head Injury Claims
Benefits of Campbell Attorneys
DOG Bite Claims
3RD Party Accident Claims
PERSONAL Injury Claims
HEAD Injury Claims
ROAD Accident Fund Claims
---
Campbell Attorneys - We have sympathy and understanding for our clients
Campbell Attorneys have dealt with a vast amount of head injury claims. We understand the devastation and complications involved in this kind of injury.
There are long and short-term effects that can have a catastrophic impact on your life. If your head injury is a result of brutality, violence or any other factor, from someone else, you may have a case.
Contact us immediately after the incident
We will be able to provide a full evaluation of a potential case with specific information provided by you. We do, however, encourage you to contact us as soon as possible after the incident, to ensure that no time is wasted in getting the matter of a case.
Clients can claim for compensation for damages that have incurred, causing suffering to the injured person. We offer two specific areas of compensation - General and Special. General damages can be covered in the event that the injured person is suffering from pain and suffering from the injury sustained.
Special damage cover
Special damages cover long-term damages that affect the injured person, such as their inability to work and earn an income as a result of the head injury. These are more severe in cases where there is partial or full brain damage.
Clients have the convenience of contacting our firm online. We know you live a busy life and your daily schedule is full. We now in a case like this, there is often not much time to waste, to get a case together.
All you need to do is complete the form we have provided on our website with as much detail as possible. With this enquiry, we will them be able to assign an attorney to your case and start the claiming process.
We will contact you, to set up a formal appointment to discuss your case further. Our initial consult with you is free, and once we have evaluated your TBI claim and you are happy to proceed with the process, we will discuss the potential costs involved with you. We usually don't charge any more than 25% of your compensation as payment from any successful case.
Campbell Attorneys Contact
Contact Number
E-Mail
Website
Physical Address
58 St. Andrews Drive

Durban North

Durban

4051

South Africa
---
Postal Address
PO Box 30162, Sunnyside, Pretoria, 0132, South Africa
Opening Hours
Monday

08:00 – 16:30

Tuesday

08:00 – 16:30

Wednesday

08:00 – 16:30

Thursday

08:00 – 16:30

Friday

08:00 – 16:30

Saturday

– CLOSED

Sunday

– CLOSED