Highly specialised
Attention to detail
Expert advice
In-page navigation
---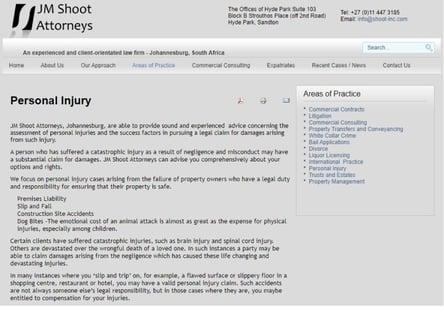 Author JM Shoot Attorneys. Screenshot of JM Shoot Attorneys website.


[Accessed March 31, 2023]
JM Shoot Attorneys - We give expert advice
JM Shoot Attorneys is a highly specialised South African law firm, offering private clients, growing businesses and even big companies expert advice.
We always put our clients first, with a warm and welcoming atmosphere, we will put at ease and handle your head injury claim professionally with attention to detail.
We meet your legal needs
Our company policy is to provide a broad understanding of the legal system in order to assist you to reach your legal and commercial goals.
Over the years we have built up a very successful track record in the personal injury claims department.
At JM Shoot Attorneys we are confident that we can meet the expectations of your legal needs.
Our offices are situated in Hyde Park, Johannesburg but we serve clients all over South Africa with our online platform.
We build strong cases
A person who has sustained a head injury due to negligence or another wrongful act of another party has the right to seek compensation for medical expenses and loss of income.
At JM Shoot Attorneys we specialise in a wide range of personal injury claims including head injury claims. We work with victims and their families and give them legal assistance to receive justice and compensation for their suffering.
You will get full personal attention
We will check if your claim is valid, we have many medical and legal professional to help us establish validity. If you have a valid claim we will focus on its preparation of the case and lodgement of the claim. We use our expertise and skills to provide evidence of the negligence and the injury of the victim.
We rely on both negotiation techniques and litigation strategies to achieve successful personal injury claims. We strive to act with maximum efficiency and dedication. We provide complete personal attention throughout the brain injury claims process. We will constantly keep you up to date with the latest case developments and processes. We focus on getting the highest compensation possible for our clients.
JM Shoot Attorneys – Head Injury Claim
Claim Type

Head Injury Claims
Benefits of JM Shoot Attorneys
COMMERCIAL Contracts
BRAIN Injury Claims
PROPERTY Transfers And Conveyancing
PERSONAL Injury
TRUSTS And Estates
HEAD Injury Claims
---
JM Shoot Attorneys - expert legal solutions
JM Shoot Attorneys are a Johannesburg based law firm, who specialises in injury cases, including brain and head trauma caused by the third party.
These cases often involve injuries sustained by incidents caused by negligence, harassment, accidents and more. In order for us to take on your head injury case, we would need to do a full evaluation of your circumstances and your injury.
Get all of the information ready
We need to know the ins and outs of what happened, who the culprit was and any documentation, photographs and doctor notes would assist in making a strong case against your attacker. If you were hurt by someone else on purpose, and are currently suffering the consequences of this action, we can make a case for assault compensation on your behalf.
To make a case on your behalf, we would need to consult with you initially, to get the whole story. From there, we will take any or all the information and documentation you have provided to us, to assess your proposed case, and work with your through regular communication, to either go forward with the proceedings or not.
We are transparent and open
We will transparently and openly discuss the whole prospect of the case with you to establish the best possible outcome of the events at hand. Once we have established that we have a case to claim for compensation and that a probable compensation could be awarded to you, we will proceed with the legal aspects immediately.
The compensation for your case will be determined by the extent of the damages and the injury caused. This will also include possible long-term brain damages, ongoing medical or surgical procedures and the effects that the injury may have on your normal way of life.
This can include the possibility of not being able to carry on working or functioning as normal due to brain injury. There are many factors to consider and take into account when it comes to this kind of case. We will discuss all these circumstances with you at your consultation.
JM Shoot Attorneys Contact
Contact Number
E-Mail
Website
Physical Address
The Offices of Hyde Park Suite 103 Block B Strouthos Place (off 2nd Road) Hyde Park

Sandton

Gaueteng

2193

South Africa