Michael de Broglio Attorneys
Vast experience and knowledge
Great track record
Warm and compassionate
In-page navigation
---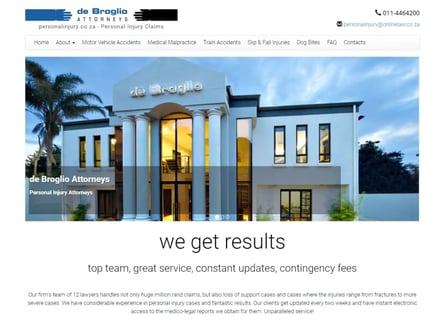 Author Michael de Broglio Attorneys. Screenshot of Michael de Broglio Attorneys website.


[Accessed March 31, 2023]
Michael de Broglio - Use our expert team for fast results
Michael de Broglio and his team of Attorneys has become known for their great track record when it comes to claiming for personal injury due to negligence by a third party.
Over the years we have gained vast experience and knowledge and we can help you build a strong case when you are pursuing justice and compensation.
We will refer you to a reputable doctor for an examination, advice and a second opinion if necessary.
Legal advice
Our founder Michael de Broglio acted as the editor for the Johannesburg Attorneys Association newsletter for over 4 years and has continued his writing with his own newsletter, which contains his expert tips and legal advice for fellow attorneys and the general public.
We have won many high profile cases through dedication and attention to detail. Come to us for help if you need to pursue a case and apply for compensation due to personal injury.
We are warm and compassionate
Michael de Broglio and his teams specialise in personal and head injury claims, we are familiar with the processes and we aim to help you get your claim paid out in the quickest possible time.
During the process, we will keep you informed and up to date with the processes.
We will give you the confidence to pursue justice and the compensation you rightfully deserve.
You will get our full attention
Michael and his team believe that treating you and your family with respect is very important.
We are warm and compassionate to our clients and your case will receive dedicated attention to detail.
Our website contains testimonials of satisfied clients. We will build a strong case with expert testimonials and evidence.
As soon as you have supplied us with the relevant information and documentation we will lodge a brain injury claim.
Michael de Broglio Attorneys – Head Injury Claim
Claim Type

Head Injury Claims
Benefits of Michael de Broglio Attorneys
MOTOR Accidents
ROAD Accident Fund
MEDICAL Negligence
DIVORCE
---
Michael De Broglio Attorneys - let us help you with personal injury claims
Michael De Broglio Attorneys have years of experience in assisting clients with personal injury claims, that weren't their fault.
These injuries often include them in most traumatic cases such as brain or head injuries that can have a devastating effect on your life short term as well as long-term.
Pain and suffering claims
Clients need to understand that a traumatic brain injury that is worth a considerable amount of compensation due to the results of the damages, would need to be taken up at the high court, and could take a while to resolve, however, we do our best to work on the case as quickly as we can.
We work on the behalf of our clients, so that justice is served, and that you receive the compensation you deserve. Clients can claim for the pain and suffering endured from the incident, medical bills as well as the long-term expenses that may occur.
This is often the case should the injury has a long-term effect on a person, and the injured party can no longer work or carry on with the normal life they once lived.
Let's get started
To get started, we would need to have an initial consultation with you, to get the full story of the incident. The more detail, information, documentation and pictures you can provide, the better for your case.
We will perform an analysis of the information provided, and inform you whether your case would stand on a legal level. We provide the legal assistance for incidents, whether they are big or small. Whatever your situation may be, we will provide the advice as well as the help you need to claim, and take the case further.
In many instances, clients tend to let the incident slide, until further down the road, they start to experience aftereffects from the injury. By then it may be too late to take it up in court or even make a head injury claim. We encourage clients to act fast. Be proactive and contact us as soon as possible if you are involved in a personal injury that could result in a head injurt claim.
Michael de Broglio Attorneys Contact
Contact Number
E-Mail
Website
Physical Address
127 Jan Smuts Avenue

Parkwood

Johannesburg

2196

South Africa
---
Postal Address
P.O. Box 2013, Parklands, 2121, South Africa
Opening Hours
Monday

08:30 – 17:00

Tuesday

08:30 – 17:00

Wednesday

08:30 – 17:00

Thursday

08:30 – 17:00

Friday

08:30 – 17:00

Saturday

– CLOSED

Sunday

– CLOSED