Malcolm Lyons & Brivik Attorneys
Founded in 1965
Thorough investigation
Dedicated team
In-page navigation
---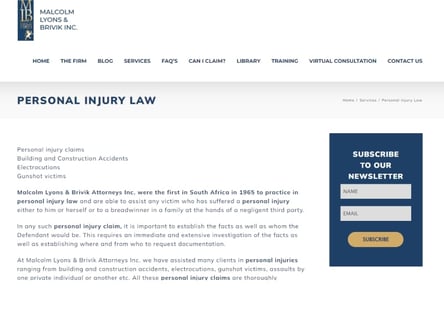 Author Malcolm Lyons & Brivik Attorneys. Screenshot of Malcolm Lyons & Brivik Attorneys website.


[Accessed March 31, 2023]
Malcolm Lyons & Brivik Attorneys - Industry leaders in personal injury law
Founded by Malcolm Lyons in Johannesburg 1965, Malcolm Lyons & Brivik Inc. has since become recognised as an industry leader in Personal Injury Law.
For many years we have been the top choice for legal advice and legal services in South Africa.
We have a longstanding track record of success in claims for personal injuries including head injury claims. We have extensive knowledge and experience, helping you get the compensation you deserve.
A large network of experienced lawyers
Our company consists of 6 attorneys and 2 candidate attorneys. They are also associated with many professional associations both in South Africa and Internationally.
These include The South African Association of Personal Injury Lawyers, the American Trial Lawyers Association, The Pan European Organisation of Personal Injury Lawyers and the International Brain Injury Association.
We have offices in Johannesburg and Cape Town but serve South Africans nationwide through our website.
Legal assistance to accident victims
The legal team of Malcolm Lyons & Brivik Inc. has many years of experience in providing legal assistance to accident victims. We specialise in various types of personal injury claims including head injury claims and brain injury.
Our goal is to defend the rights of injured people and to provide them with justice and compensation to cover medical expenses and loss of income. We are knowledgeable and highly skilled and will ensure the process of making a claim is as painless as possible. We combine expertise with dedicated personal attention to build a strong case on your behalf.
Your first consultation is free
The first consultation which we will provide to you is free, in this consultation we will check if you have a valid personal injury claim.
We will investigate your claim to determine the factors that caused the injury. If there are legal grounds for a claim, we will prepare the claim and institute it on your behalf.
We will employ effective negotiation and litigation strategies to ensure a successful outcome of your case. We will keep you up to date on your claim processes and give you advice and assistance where needed.
Malcolm Lyons & Brivik Attorneys – Head Injury Claim
Claim Type

Head Injury Claims
Benefits of Malcolm Lyons & Brivik Attorneys
PRODUCT Liability Claims
3RD Party Accident Claims
ACCIDENTS
DOG Bite Claims
HEAD Injury Claims
ANIMAL Bites
PERSONAL Injury Claims
AVIATION Accidents
BICYCLE Accident
BIRTH Injury
BRAIN Injury
BURN Injuries
CONSTRUCTION Accidents
MEDICAL Negligence
SEXUAL Harassment
SURGICAL Errors
---
Malcolm Lyons & Brivik Inc. Attorneys - We understand the frustration of being a victim
Malcolm Lyons Attorneys specialise in cases that involve injuries that were inflicted on you, and that wasn't your fault. We understand the frustration of being a victim in a situation that could have been prevented, but you had no control over.
We deal with a number of head and brain injury claims and cases, including personal injury claims (head and TBI injuries included), Building and construction accidents, Electrocutions and gunshot accidents. These are just a few of the incidents we can make a case on for our clients.
We have the experience and expertise to help you
As the founder of personal injury legal practice in South Africa, we have the experience and the expertise to assist our clients with all their personal injury situations and cases. This kind, of course, requires a lot of investigation and analysis, in order to provide a case that produces a settlement compensation for our clients.
If you are involved in an injury or incident, where you have been hurt due to the acts of another person, we can possibly make a case on your behalf.
We would need to have an initial consultation with you, to get all the details and information from what happened. In most head and brain injury cases, the damages can be quite severed, either leaving the victim emotional traumatised, or even suffering from long-term brain damages.
Injuries caused by negligence
Injuries caused by negligence or intent to cause harm can leave the injured person with expenses such as a hospital, doctor and possibly psychology bills, which can weigh heavy on your pocket, especially for something which wasn't your fault.
These expenses can be included in the compensation amount you will be paid out. This is why, on your initial consultation, we will need to get an in-depth understanding of what happened, and details of the injury at hand.
We will need as much documentation, doctor letters, medical bills and photographs as you can provide us with, in order to compile a strong case against the person who injured you. From there, will communicate with you on the outcome of our analysis and together we can make a decision on whether or not to pursue your head injury claim to the next level.
Malcolm Lyons & Brivik Attorneys Contact
Contact Number
E-Mail
Website
Physical Address
Suite 501, 5th Floor, The Colosseum, 3 St Georges Mall

Cape Town

8001

South Africa