Leading legal firm
Over 20 years, experience
Highest claim possible
In-page navigation
---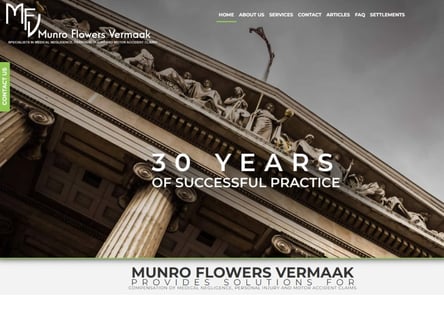 Author Munro Flowers & Vermaak. Screenshot of Munro Flowers & Vermaak website.


[Accessed March 31, 2023]
Munro Flowers & Vermaak - The leaders when it comes to personal injury
Munro Flowers and Vermaak Attorneys have long been one of South Africa's leading legal firms.
We specialize in personal injury litigation, head injury claims, claims to the Road Accident Fund and medical negligence, claims are usually used for medical expenses and to cover the loss of income
We have extensive experience
Partners Stephen Flowers and Karen Vermaak have over 20 years of experience in the field of personal injury claims.
Both have lectured at the Law Society of South Africa for 10 years, imbuing the next generation of attorneys with the skills and knowledge necessary to pursue success in personal injury claims.
Munro Flowers & Vermaak aim to get you the highest claim amount as fast as possible.
The right firm to have in your corner
Munro Flowers and Vermaak have represented many clients in pursuing justice and compensation.
We have extensive knowledge and experience in head and brain injury claims, and if you have sustained an injury that was not your fault, this is the firm to contact.
Road Accident Fund
With many high profile medical negligence settlements, as well as substantial pay-outs from the Road Accident Fund, Munro Flowers and Vermaak have proven time and again that they are the right legal experts to have in your corner when something goes wrong.
Munro Flowers & Vermaak – Head Injury Claim
Claim Type

Head Injury Claims
Benefits of Munro Flowers & Vermaak
3RD Party Claims
ENVIRONMENTAL Law
MEDICAL Negligence
DOG Bite Claims
HEAD Injury Claims
MVA Claims
PERSONAL Injury
---
Munro Flowers & Vermaak - Your personal well being is our priority
Munro Flowers and Vermaak Attorneys specialise in all legal aspects including personal injury claims.
We have a number of years backing up our experience in delivering argumentative and winning cases when it comes to personal injury legal cases. Your personal well being is our priority when your case is in our hands.
Personal injuries
Personal injuries come in all forms of claims, ranging from simple dog bite claims to as vast as gunshot and train accidents. Whatever the incident may be caused by, if you sustain a brain or head injury from the accident, we will be able to provide the legal aspects of the case for you.
To get started on your case, simply give us a call, and we will set up a consultation with you to discuss all the details. We know that brain and head injuries can be extremely sensitive, not only medically, but emotionally.
The long and short-term effects can have a devastating effect on the victim. Often we see clients who have been involved in this kind of injury, who are unable to carry on with life as they used to. You may need surgery, or long-term recovery and assistance. These will all be taken into account when building your case.
Contact us
Getting your incident to us as soon as possible will help us to get the legal part started without wasting any time. We will need all the information you can provide to us, including photos, names, dates and times.
Doctor and medical notes are extremely important in this kind of case as well. We will evaluate all the information you provide and analyse all the details, to give you our honest opinion and advice, on what we can expect taking your case forward.
We have years of experience in dealing with these kinds of cases including head injury claims, you can trust us for our transparent, open communication, as well as delivering on our promise to get the best outcome on your case.
Don't waste another minute worrying about how you will be compensated for your injuries. Let us take your case, and put those worries to rest. Trust the personal injury experts in winning your case!
Munro Flowers & Vermaak Contact
Contact Number
E-Mail
Website
Physical Address
3rd Floor, The Mall Offices, 11 Cradock Ave, Rosebank

Johannesburg

Gauteng

2196

South Africa
---
Postal Address
P O Box 2426, Saxonwold, 2132, South Africa