Extensive experience
Negotiation skills
Compassionate legal partner
In-page navigation
---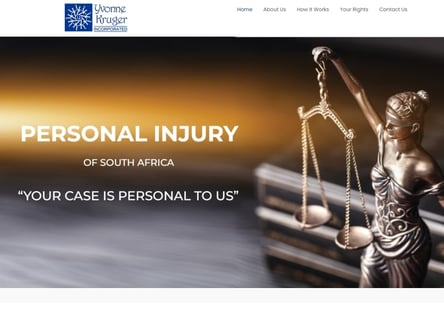 Author Yvonne Kruger. Screenshot of Yvonne Kruger website.


[Accessed March 31, 2023]
Yvonne Kruger - Qualified in personal injury law
At Yvonne Kruger, we specialise in personal injury claims. We have many successful claims and we continue to work hard for our clients.
When you have been in an accident or sustained a head injury due to negligence from a third party we can help you to make a head injury claim for the compensation that you rightfully deserve.
Legal experts
We have excellent negotiation and litigation skills. With us, you will get the personal dedication you deserve to help you claim for compensation.
We are transparent with our clients and we will keep you up to date and informed regarding the processes and time frame of your claim payout.
Extensive experience in personal litigation
At Yvonne Kruger, we specialise in personal injuries such as dog bites, brain and head injuries. Apart from that, we are able to help you with any legal issue you have.
We have a good relationship with the road accident fund committee. If you have been in an accident that is the fault of a third party contact us and let us help you claim for compensation.
A compassionate legal partner
With us, you will get warm compassionate client care. As soon as you have supplied us with the relevant information and documentation we will validate your head injury claim.
If your claim is valid we will start the process of lodging a claim. Most claims can be settled out of court.
If we can't settle out of court we will start litigation and represent you in court. We strive for a positive outcome for every client.
Yvonne Kruger – Head Injury Claim
Claim Type

Head Injury Claims
Benefits of Yvonne Kruger
PERSONAL Injury
MOTOR Vehicle Accident Claims
HEAD Injury Claims
ROAD Accident Fund
BRAIN Injuries
SPINAL Injuries
LOSS Of Support
MEDICAL Negligence Claims
---
Yvonne Kruger - the best personalised legal service
Yvonne Kruger Inc.is a private law firm headed up by Yvonne Kruger herself. Yvonne has extensive experience in assisting clients with personal injuries, who needs the legal guidance and help to fight their case in court.
With Yvonne by your side, you know you are getting the best-personalized service you need for times when you are emotionally dependent on a legal team that cares about your well-being.
To begin your head injury claim, we need to evaluate your situation, by having an initial consultation and getting all the information around the circumstances at hand.
Get all of the relevant information ready
Making sure that you have all the relevant information when pursuing a brain injury claim. A full description of the accident is very important.
Get all the contact details from all the witnesses and if you can, the person who caused the accident. In the event that your injury was caused by a car accident, you should have the licence plate numbers of any and all vehicles involved.
Get a full description of your injuries
If you haven't already consulted a medical professional, you should do so now. Get a full description of your injuries as well as recommended treatment options and the cost.
A second medical opinion is a good idea. We can refer you to doctor for examination and they can also give an expert testimonial.
We understand the overwhelming situation you may be in during this tough time. We want to enable our clients to pay for medical expenses and to cover the loss of income for yourself and your family. At Yvonne Kruger, we want to give you a voice and help you pursue justice.
Yvonne Kruger Contact
Contact Number
E-Mail
Website
Physical Address
172 Lipizzanner Road

Beaulieu

South Africa
---
Postal Address
PO Box 30248, Kyalami, 1684, South Africa