Ronald Bobroff & Partners
Established in 1974
Superior legal advice
'No win, no charge'
In-page navigation
---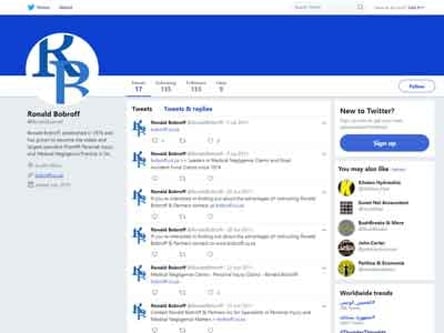 Author Ronald Bobroff & Partners. Screenshot of Ronald Bobroff & Partners website.


[Accessed April 5, 2023]
Bobroff & Partners - Superior legal services
Ronald Bobroff & Partners was established in 1974 and since then we have become the leaders in the field of medical negligence and personal injury claims.
Throughout the years Ronald Bobroff was the President of the Law Society and is the residing president of the South African Association for Personal Injury Lawyers.
24-hour free legal advice service
With 40 years of experience, we give our clients peace of mind knowing that we will work with dedication and attention to detail.
We are well-known for our 24-hour free legal service, this service can be used if you need advice on any type of legal problem. We strive to help our clients pursue justice and get the personal, brain or head injury compensation you deserve.
You will get personal attention
At Bobroff & Partners, we have many years of experience and we use our extensive knowledge to build strong cases and win head injury claims on behalf of our clients.
We specialise in Personal Injury Litigation and medical negligence claims, apart from that we are able to supply a wide range of legal solutions
No win - No fee
Apart from head injury claims and the like, they can guide you in such cases as American and Australian Migration, Assaults, Product Liability, Divorce and Family Matters and much more.
The majority of their 24-hour are handled on a 'No Win, No Charge' basis.
As soon as you have given us all the relevant information, evidence and documentation we will build a case and lodge a claim.
Ronald Bobroff & Partners – Head Injury Claim
Claim Type

Head Injury Claims
Benefits of Ronald Bobroff & Partners
MEDICAL Negligence
ROAD Accident Fund Claims
MOTOR Vehicle Accidents
LOSS Of Support Claims
SLIP And Fall Claims
DOG Bite Claims
ASSAULT Claims
PRODUCT Liability Claims
AVIATION Accidents
BOATING Accidents
RAIL Accidents
PERSONAL Injury Claims
INTERNATIONAL Claims
---
Bobroff & Partners - you will receive the very best in legal advice and guidance
Bobroff & Partners can assist you with your personal injury case. We specialise in a number of personal injury legal situations that involve head injury.
With our accumulated experience in addressing our legal cases on behalf of clients who have been injured, through the negligence of a third party, we can help you.
A dedicated team
You will receive the very best in legal advice and guidance. Though they will lead through all that you need to do, there are a few things that would be helpful to have in advance.
Witnesses, evidence and the relevant documentation is very important to help us build a strong case on your behalf.
Get expert advice
If you haven't already seen a medical practitioner, you should do so. Get a professional opinion of your injury and treatment options will help us in deciding what settlement to pursue.
If you haven't done this already, you can get a referral from us, we will refer you to a reputable doctor. After this, we will handle your head injury claim and all other paperwork.
Claim timeframes
The times until the completion of the claim can vary depending on many different factors, one of which is how serious the case is deemed.
Don't settle for the fly by night firms that will advertise settlements in 6 months or less, these guys are usually not going to give you the full attention you deserve.
Personal and head injury claims usually only pay out after 2 to 4 years. It may seem like a long time, but your attorneys should always be aiming for the highest possible payout.
Get the compensation you deserve
Throughout this journey with you as our valued client, we will work with you to determine and analyse your situation being a worthy cause to fight and will represent you in the best way we can. Contact our firm today if you know you have a case worth fighting for and let us help you get the head or brain injury compensation you deserve.
Ronald Bobroff & Partners Contact
Contact Number
E-Mail
Website
Physical Address
37 Ashford Road

Parkwood

Johannesburg

2196

South Africa
---
Postal Address
P O Box 1170, Parklands, Johannesburg, 2121, South Africa