Paul du Plessis Attorneys
Premier choice of firm
Dedicated to positive results
Client service orientated
In-page navigation
---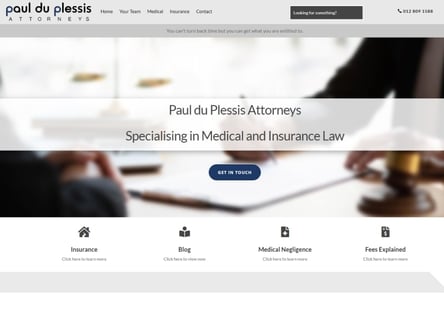 Author Paul du Plessis Attorneys. Screenshot of Paul du Plessis Attorneys website.


[Accessed March 31, 2023]
Paul du Plessis Attorneys - Dedicated to delivering positive results
Based in Lombardy, Pretoria, Paul Du Plessis Attorneys are industry leaders in personal injury claims.
We have over 18 years of experience and knowledge in this and other personal injury claim fields, making us one of the premier choices in pursuing a head injury claims or similar claims.
We deliver positive results
We have a highly professional and dedicated team and over the years we have built a long list of successful claims and litigations.
We have generated a great deal of respect in the legal and medical community for it.
We pride ourself on our excellent client service and dedication to delivering the best possible results whether you need to make a dog bite claim or a public liability claim for a slip and fall.
We specialize in medical negligence
At Paul Du Plessis Attorneys we specialise in Medical Negligence, covering a wide variety of claims within this field.
This includes but is not limited to head injury claims, birth injuries, brain injuries, dog bites and road accident claims. We will build a strong case based on evidence and expert testimonials.
We serve South Africa
We are based in Pretoria but through our website, we are able to help clients anywhere in South Africa. We can and have helped clients from all around the country.
Our team consist of qualified attorneys, they can handle just about any other legal issue, and once you have personally experienced our fantastic client service, you will likely want to keep us on full time!
Our team will work on a contingency basis, meaning that you don't have to pay us unless we win your head injury claim. All costs before this will be covered by us.
Paul du Plessis Attorneys – Head Injury Claim
Claim Type

Head Injury Claims
Benefits of Paul du Plessis Attorneys
Personal Injury Claims
Head Injury Claims
Road Accident Fund Claims
---
Paul du Plessis Attorneys - Use us when you need legal help fast
In the event of a head injury claim or other similar injuries, Paul du Plessis Attorneys will handle the entire proceedings once they have accepted your case. Upon contacting them they will launch an investigation into your claim, all at their own cost.
If they believe your head injury claim is valid, then a full case will be launched. You will be interviewed and all the relevant information and documentation for your case will be put together.
Simply give us a call, to set up your initial consultation, so we can familiarise ourselves with the incident from the beginning to the present, to see if you have a case or not. Most times, we are able to present a legal case to the court, especially should the victim have suffered injuries that have caused head or brain injury.
Get a second opinion
Your first consult will include the particulars of your accident, who was involved and who was at fault. If you were in a vehicle accident, getting the licence plates of everyone involved is important, but it's not the end of the world if you don't have them, especially in the case of a head injury.
If you haven't already gotten medical attention, We can refer you to a reputable medical professional, who will assess your injury and outline your treatment.
Contact us
Personal injuries specifically an injury that causes long or short-term head or brain injuries can be a very emotional part of your life. You could be affected by the ability to maintain or even carry on working a normal job as you were used to, or suffer ongoing seizures, brain lapses and memory loss.
These are all factors we need to take into consideration when fighting your case. Your wellbeing now and what your way of life was before the accident, will have an important role in your case, and the compensation amount. Make the first step, sooner rather than later, call Paul du Plessis Attorneys on +27 (0)12 809 1588 or email at paul@pauldup.co.za to make a claim today.
Paul du Plessis Attorneys Contact
Contact Number
E-Mail
Website
Physical Address
Unit 29 Lombardy business park, Graham road corner Cole road

Silverlakes

Pretoria

0084

South Africa
Opening Hours
Monday

07:30 – 16:00

Tuesday

07:30 – 16:00

Wednesday

07:30 – 16:00

Thursday

07:30 – 16:00

Friday

07:30 – 16:00

Saturday

– CLOSED

Sunday

– CLOSED