14 Attorneys plus support staff
Oldest, most established
Complete guidance
In-page navigation
---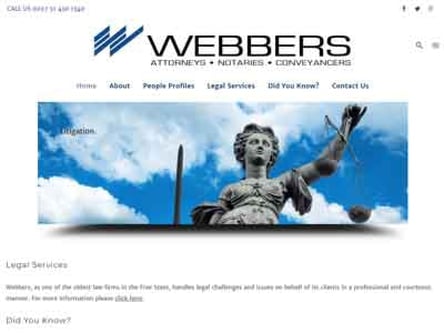 Author Webbers Attorneys. Screenshot of Webbers Attorneys website.


[Accessed April 5, 2023]
Webbers Attorneys - Quality legal services
The Webber law firm was first established in Bloemfontein, 1906 and has been assisting clients with motor vehicle accident claims for over 40 years.
Webbers Attorneys is the brother firm of Webber Wentzel, Johannesburg.
We can help you
A third firm was added to the Webber family; Webber & Newdigate, Lesotho.
Webbers boasts 14 attorneys and a support staff of more than 40 people available to cater for all our clients' legal needs.
The firm is one of the oldest and most established road accident fund claim practices in the Free State.
The collective knowledge and skills at Webbers provide clients with professional, high-quality legal services.
Quality legal services
The process of claiming from the Road Accident Fund (RAF) or an individual can be complicated, confusing and emotional.
Webbers Attorneys aims to guide our clients through the channels of making a claim, providing them with high quality legal and medical expertise.
Legal experts on your side
During your first consultation, Webbers will determine the validity of your claim. If your claim has merit then your attorney will advise you on how to proceed with lodging your car accident claim. It is important when deciding whether or not to claim, to consult a personal injury lawyer, in order to determine your eligibility and to prevent you spending excess money on a fruitless claim.
Webbers Attorneys have the knowledge of the legal channels and the experience required to determine the merits of a claimant's case, they can also direct clients to the right medical experts, and cover all the majority of the financial burden of cases.
Webbers Attorneys – Motor Vehicle Accident Claim
Claim Type

Motor Vehicle Accident Claims
Benefits of Webbers Attorneys
REAL Estate
COMMERCIAL Litigation
CORPORATE Formations
GENERAL Litigation
CORPORATE Transactions
INSURANCE Litigation
PERSONAL Injury Litigation
LABOUR And Employment Law
FAMILY And Divorce Law
SUPREME Court Of Appeal
MOTOR Vehicle Accident Claims
---
Webbers Attorneys - We are transparent
Whether you caused the accident or are the victim in one, it is important to take the details of the other driver; full name, address, car insurance details, contact number, identity/passport number and license details.
Take photos of the damages to your vehicle, their vehicle and the road conditions at the time of the accident. You need to report the accident to the police within 48 hours, whereupon you will be given a case number, which both your insurance and attorneys will need.
How to claim
Lodging a third party claim can be a difficult and arduous process. Let Webbers take the burden off your shoulders and manage the formalities of gathering the correct documents, witnesses and medical reports to support your claim.
They will keep you in the loop, updating and advising you at each step along the way ensuring a successful personal injury claim against the negligent party. This leaves you to focus on the important things and getting your life back on track.
Webbers Attorneys Contact
Contact Number
E-Mail
Website
Physical Address
96 Charles Street

Bloemfontein

9301

South Africa
---
Postal Address
P O Box 501, Bloemfontein, 9300, South Africa
Opening Hours
Monday

08:00 – 16:30

Tuesday

08:00 – 16:30

Wednesday

08:00 – 16:30

Thursday

08:00 – 16:30

Friday

08:00 – 16:30

Saturday

– CLOSED

Sunday

– CLOSED