Personal injury- and medico- law
Passion for practicing law
Large, complex cases
In-page navigation
---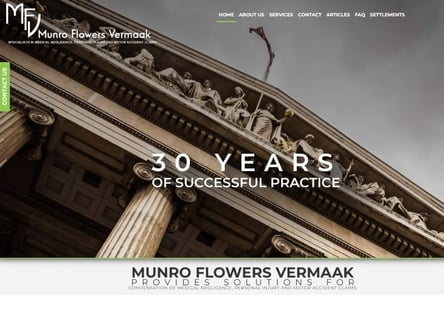 Author Munro Flowers & Vermaak. Screenshot of Munro Flowers & Vermaak website.


[Accessed March 31, 2023]
Munro Flowers & Vermaak - We can handle large and complex cases
For more than 20 years, the legal practice of Munro Flowers & Vermaak has been helping the accident victims in South Africa to receive personal injury compensation for what they have been through. We are among the leading firms with specialisation in personal injury law and medico-law.
We can provide complete legal assistance with personal injury claims, medical negligence claims and road accident claims. We are proud of our achievement record. We have handles large and complex cases with great success. We have won individual compensation award of over R10 million.
A long track record of success
Our legal services are based on long-term experience and extensive expertise. We are up to date with all of the latest amendments in legislature and trends in the practice of law.
This combined with our traditions enables us to reach the best outcomes for our clients. The two leading partners of the firm, Stephen Flowers and Caren Vermaak, are among the leading legal experts in our field.
We have the experience to help you
As part of our long-term practice, we, at Munro Flowers & Vermaak, have handled numerous personal injury claims. We have experience in working on cases related to all kinds of accidents from a vehicle and train accident to dog bites, police brutality and electrocutions.
One of our major cases involved a railroad worker who was mistakenly shot by a security guard while doing his work. The victim was compensated for both the medical expenses which he incurred and for the reduction in his income in the form of a loss of support claim.
We win cases
Another one of our notable cases involved children who got injured due to Eskom having left an exposed wire. We managed to win high compensation of the victims of the accident.
Our achievements with road accident fund claims and other personal injury cases show who we are. They reveal our dedication to helping others and our passion for practising law.
We have helped many people using our experience, expertise and effective claim initiation, negotiation and litigation strategies. We can help you and your family as well.
Munro Flowers & Vermaak – Personal Injury Claim
Claim Type

Personal Injury Claims
Benefits of Munro Flowers & Vermaak
3RD Party Claims
ENVIRONMENTAL Law
MEDICAL Negligence
DOG Bite Claims
MVA Claims
PERSONAL Injury
---
Munro Flowers & Vermaak - A passion for helping our clients
Munro Flowers & Vermaak have well over two decades in the legal industry, and personal injury cases are an area we are extremely recognised for.
Because we work on a no win no fee basis, our clients can be assured that the costs of your case would only come into effect should we win your case in court. In over two decades of assisting clients with their legal needs, we have had one of the highest success rates in South Africa, when it comes to winning personal injury claims.
An excellent team on your side
We have a team of some of the most experienced and knowledgeable attorneys in our firm, who all share a passion for clients, and the eagerness to fight for what is right, on behalf of their clients.
Our main branch is situated in Johannesburg, however, if you can't get to us for your consultation, we will make a plan to be in contact with you. We are transparent and flexible, providing a legal service that fits the needs of all our South African clients.
We have over 20 years of assisting clients with personal injury cases. These cases require a high touch and expert knowledge of the legal system. Luckily, our clients get this and more from our firm. We have handled some of the largest cases in the country to date, and getting compensation payouts for our clients that are far beyond their expectations.
All which are well deserved in line of what they have endured to get it. If you have a personal injury case such as an assault claim and need a law firm to be there for you throughout the process, call us today. We will evaluate your situation as well as the incident, and put together an analysis of what to expect going forward.
We will prepare you for what is to come, and in most cases, the time frame is quite long. However, we can assure you that we will do our very best in helping you fight for the outcome you deserve. What makes our company so unique, is not the wins under our name, but the passion we have for helping our clients. We do what we do for the love of law, and fighting for innocent people who deserve better.
Munro Flowers & Vermaak Contact
Contact Number
E-Mail
Website
Physical Address
3rd Floor, The Mall Offices, 11 Cradock Ave

Rosebank

Johannesburg

2196

South Africa
---
Postal Address
P O Box 2426, Saxonwold, 2132, South Africa